Welcome to Time Out with Tanya, where I've put my fast paced graphic design career on hold in favor of adventures in motherhood. I'm capturing every moment on camera and you can come along, if you'd like. Sign up for my weekly email here so you'll never miss a Time Out.
Hey Ladies (and gentleman, too, if you want to listen in), I'm back from Click Away 2014, a photography conference just for women, and I'm dying to share some of the highlights with you. If the thought of going to a photography conference totally intimidates you, this is the one you should try next year. It was so casual, fun and informative for photographers of all levels. I met hobbyists, total newbies, emerging pros, and seasoned studio owners. I arrived feeling a little disillusioned about photography and being an artist in general. I left inspired, energized and full of ideas for moving forward as a creative person. Here are just a handful of my favorite moments…
The Courage to be Creative

When I first heard that author Elizabeth Gilbert would be the keynote speaker at Click Away, I was excited (because her book Eat, Pray, Love literally changed me), but also a little confused, because, well, she's not a photographer. So I wasn't sure what to expect. But her opening remarks set the most perfect tone for the weekend and I filled my notebook with pages of inspirational words about women and creativity and courage. They were exactly the words I needed to hear. I think I'll write an entire post for you on this topic because there's just so much to share!
Meeting Sue Bryce
I'm not even a glamour photographer and I love this woman. Her message has become so much more than Photography, which was the theme of her class. She's all about empowerment, valuing yourself and your work, taking action, and wholeheartedly giving the one thing you have to offer to the world that is unique. I'm still trying to figure out what that one thing is (Sue would call this a block. Shoot, why am I blocked???!), but when I do, I'll know exactly how to take it and run with it, thanks to Sue.
Read my interview with Sue Bryce here: MORE THAN HAIR & MAKE-UP: THE TRUE VALUE OF A GLAMOUR PORTRAIT – INTERVIEW WITH SUE BRYCE
Sue encouraged us to decide what we want to do and what we have to offer, then make a vow to do it. Say it out loud. Put it out into the world. When I had a chance to meet her with a small group on Saturday afternoon, I watched her do just that. She told us she wants to create a motivational website to help people transform their lives, and I have no doubt she will do it and succeed. What an inspiration.
Testing Gear & New Products

There were several vendors displaying their products and services at Click Away. But it wasn't super crowded and noisy like a typical trade show. For example, the Westcott Ice Light was set up with a fake baby for us to photograph (which was hilarious, I thought) but really cool to try without having to buy first.
Canon, Tamron, Nikon and Sigma were there with lenses we could actually put on our camera and try out. Models were available at each of those booths. I got to try out a few lenses I've had my eye on, including the Sigma 105mm f/2.8 Macro Lens for Canon (which is on sale right now for an awesome price, by the way!) and compared it to the Canon and Tamron versions right there on the spot. I haven't done a thorough comparison, but going on first impressions and price, I think the Sigma won…
Profoto was showing off their Profoto ProTungsten Air Tungsten Light in a giant Profoto Deep White Umbrella and let me try it out. I have shied away from studio lights in favor of lighter, less expensive speed lights for a variety of reasons, but WOW, these lights are nice and sooooo easy to use. I think I'll be writing more about this brand later, too. Stay tuned!

There were so many cute product samples from vendors, but one item that stood out to me were these cardboard frames from Tap Boutique. In the past, the only paper frame I've been able to find for event photography have been those black frames with the gold edging, which look horribly outdated. I love these!

Another product I've been looking for is a contemporary slip-in matted album that doesn't cost a mortgage payment. Midwest Photographic has a 4×6 and 5×7 that is exactly what I would love to offer my portrait clients!
Social Media with Click it Up a Notch

Another highlight was meeting Courtney Slasinik from Click It Up a Notch and learning all about how to amp up my social media platform. I'll be honest, I know quite a bit about social media, so I wasn't sure how much I would learn, but I picked up a ton of tips. I could hear minds being blown and "ah-ha" moments happening all around me. Courtney is just so entertaining, down to earth and a fantastic teacher. It was one of my favorite classes.
Photo Walk & Headshot Exchange

Last but not least, I did actually get my camera out and do a little shooting. A small group met up in downtown Salt Lake City for a headshot exchange (which is a really good idea, by the way, if you need an updated head shot!) and then I took another photo walk in Park City. Here's my Park City Selfie:
I'll write more about my photo walk experience and why you should do one (like today) as part of my 100 Ways to Be a More Creative Photographer Series. I have so much to write about after this conference and so many things to do to move forward with my photography. If you were there, give me a shoutout in the comments with a link to your Instagram or Facebook so I can follow you. If you weren't, I hope you can join us next year.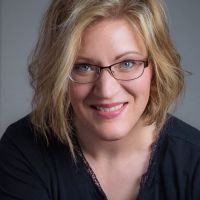 Tanya Goodall Smith
Tanya is the owner of WorkStory Branding Photography in Spokane, WA. Businesses hire her to create story-telling content that sells their high end products and services. She also teachings photographers her unique business model for making serious money as a corporate and personal branding photographer. Find her at
workstoryphotography.com
and
workstoryeducation.com