If you've been around photography long enough, chances are you've used a seamless white paper background for some of your images. Even if you haven't, if you follow any current fashion photographers or studios, you will have noticed that it's very fashionable to put a subject in front of a plain white background. Arguably hyper-popularized by Terry Richardson, who rather famously shoots most of his subjects this way, even for major editorials, the style has trickled down.
The effect of using such a simple technique is quite profound, as it gives very good separation of the subject and brings all focus to it, whether that's a person or inanimate thing. It is also rather inexpensive as a plain wall can be used or you can buy a seamless background roll for around $100, and it's easy to travel with a background thus giving you a sort of mobile studio look anywhere you go, even in small spaces like a hotel room.
The backgrounds, however, aren't always even, and if it's the roll, it often gets very dirty from people touching and stepping on it. Cleaning this up is a must, but it's also time consuming in post. But, it doesn't have to be, and Aaron Nace shows a rather ingenious way to clean up any background using the Median Filter.
Thoughts
One of the difficult parts of cleaning up a background is retaining edges of the subject, and also integrity of the shadows. Using a healing brush or clone stamp makes for a very laborious effort and yet it seems Aaron's method actually may achieve a better result, in fraction of the time.
I've never actually used this filter before seeing this tutorial, and frankly, wouldn't have thought to look for a solution to this problem within the filter menu, even though I like to shoot this way. It's also effective, I've found, at clearing up imperfections or textures on a wall, or floor, if not using a seamless paper backdrop. That said, if you like a particular texture on the background, keep in mind this method may remove too much of that texture. I would also suggest that to be most precise, to use a Wacom tablet. You don't need a really expensive Pro model, but it's an investment that will pay dividends forever. You can check out some reviews I've done here and here.
As always, if you are a fan of Aaron's teachings (and who isn't?), be sure to check back here for updates, and follow along with Aaron on YouTube and Phlearn. You should also consider becoming quickly adept at Photoshop with the Phlearn Photoshop 101 & 201 sets as they are extremely comprehensive, and will have you quickly doing things with Photoshop you may have otherwise thought too complex, or didn't even know you could do.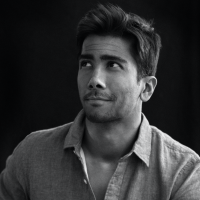 Kishore Sawh
A photographer and writer based in Miami, he can often be found at dog parks, and airports in London and Toronto. He is also a tremendous fan of flossing and the happiest guy around when the company's good.