Our "SLR Lounge & Fundy Designer Artist Feature" collaboration articles highlight some of the very best photographers in the world. This article features Citlalli Rico of Citlalli Rico Photography (Cancún and Riviera Maya, Mexico). Citlalli is a multiple award-winning international wedding and portrait photographer. And she is also an educator. In addition to being a Fundy Storyteller, Citlalli is a regular instructor at Fearless Photographers workshops, a popular mentor, and the co-creator of MX Colectivo (educational and inspirational content for photographers in Spanish). Now, read on as Citlalli talks about improved client workflow.
And whether you're brand new to photography or a seasoned pro, Citlalli's wealth of experience, and kind heart, will be an inspiration to your soul!
Thank you for taking the time to talk with us, and share your experiences with us, Citlalli. Tell us a bit about yourself.
I'm a Mexican photographer based in Cancún and Riviera Maya. I have been in this business for almost 13 years. I work with my sister, Tamara Rico, who is also a photographer and the editor of our photography company. We specialize in weddings and also family and couples sessions. Because our photography is very natural, it's non-intrusive and driven by real scenes and moments.
You are passionate about spending time with your loved ones. So how has your improved client workflow allowed you to streamline your business and give you that time with family and friends? 
Well, I often hear photographers complaining about not having enough time. I used to be like that. Then I made some changes. Most importantly, I sought an improved client workflow … Here's what I do:

First, I respond to inquiries ASAP. After all, as customers, we love to have prompt responses. It's simple; set up an auto responder. I've lost leads because I didn't respond fast enough.

Second, I have good studio management software. In fact, one of the most important parts of your business will be how well organized it is. I use Studio Ninja, and I'm extremely happy with them. It doesn't matter if you're a complete mess or super organized. Studio management software will be a huge help.
Next, I delegate some tasks. Responding to emails, customer service, editing and post-processing, social media, managing, sales, etc. The list goes on. There are a lot of tasks. Some can definitely be done by someone else. Let go of some. Get your life back.
As well, I am a good communicator. Communication is key. Keep your clients informed during the entire process. Most of them haven't been through this process. So, keep them posted on what the process of booking a photographer is like. Also, for weddings, I always send them an email the day after the wedding. I thank them, and I include a couple of previews. As a result, they are reminded of how long the post-process will take.
Finally, I follow up! If you didn't hear back from clients, make sure they are satisfied with your service and products. If they are not? Fix it! Because, in the end, happy clients is what matters the most. I love to add my clients on all my social media accounts, as it's a great way to stay in touch.
Thanks for sharing about your improved client workflow, Citlalli. Where can photographers connect with you in person/learn more from you?
I love to mentor and teach! I offer mentoring, via my website. And I'd love for you to check out MX Colectivo, an educational collaboration I do with Daniel Aguilar. Finally, I will be part of the collective workshop El Cósmico (Tepoztlan, Mexico) in November and teaching at the next Fearless Photographers workshop in January as well.
You can see more of Citlalli's work on her website. And be sure to check out her work on Facebook and Instagram!
Also, check out the updated list of partner discounts available for SLR Lounge Premium Members. You can, for example, save $50 on Fundy Designer's "Pro Suite" or "Album Suite." You can see those discounts by clicking here! And, finally, don't forget that you have until the November 30 deadline to be considered for SLR Lounge's November 2018 awards competition!
All photographs are copyrighted by Citlalli Rico of citlallirico.com and have been used with permission for SLR Lounge. Do not copy, modify, or re-post this article or the included photographs without express permission from SLR Lounge and the artist.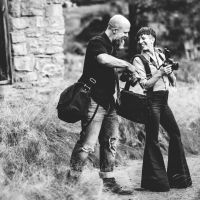 Amii & Andy Kauth
Amii & Andy are a wife and husband team of rad portrait and wedding photographers (Sunshine & Reign Photography) who absolutely love life and are generally just stoked! Yeah! When they aren't photographing or writing and teaching about photography, you'll find them off on a seriously legit adventure with their little ones, lifting weights in their garage, training jiu-jitsu, refining their archery skills, or surfing every chance they get. And on the rare chance they escape off on a "date night"? Yep! They'll find a wedding to crash (true fact). Website:
Sunshine & Reign Photography
Instagram:
@sunshineandreign