An important skill to develop as a photographer is being able to properly execute a shot no matter the circumstance and make the subject look good. A common assumption is that spending a lot of money in all aspects will guarantee a desirable outcome, however, that isn't a prerequisite – never underestimate the caliber of what can be achieved with a limited budget.
We have talked before that a successful stylized shoot isn't confined to an ideal studio space and premium gear with a lofty day rate and designer clothing. Jessica Kobeissi is back with another video to drive this point home and this time it is focused on maximizing the potential of cheap 'designer' dresses purchased on eBay.
Jessica scoured eBay for dresses that were couture in aesthetic and found three separate gowns for less than $450. It is always a risk to buy something sight unseen, especially with clothing, as rarely does the actual item even remotely resemble the image used online to sell it.
Knowing this, she embraced the challenge and set a goal to photograph the gowns in an elegant way and make them look as though they are more expensive than what she actually paid for them. Sticking to the small budget theme, Jessica created a studio setting in her home while using her normal Canon setup and a single Alien Bees strobe with an Octabox.
Paul C. Buff is a solid yet inexpensive choice for photographers who are just beginning their studio lighting journey.
The Gear
Canon 5D Mark III
Canon EF 24-70mm f/2.8L USM II Lens
PocketWizard
Alien Bees DB800 strobe
PC Buff Octabox with Diffusion Sock
Light blue seamless paper and background stand
In yet another fun-filled 5 minute video Jessica demonstrates that it isn't about the most expensive gear and clothing that money can buy and a studio setting can be accomplished anywhere. Amazing results can be created with a minimal budget and it is up to us as the photographer to learn to see the potential in any given situation.
You can check out and subscribe to Jessica's YouTube Channel as well as follow her on Instagram.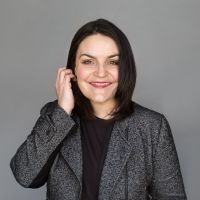 Brittany Smith
Brittany is a fashion and beauty photographer who works between NYC, Montana and LA. She photographs the way she has always wanted to feel and believes in the power of raw simplicity. When not behind a camera she can usually be found at a local coffeeshop, teaching fitness classes at the YMCA, or baking something fabulous in the kitchen. Instagram: @brittanysmithphoto