Getting started with food photography comes many of the same challenges you'd expect with any genre; finding the right camera gear, finding a good space for your shoots, and lighting your scenes. Your Google quest to overcome these challenge will lead you to discover that any modern camera will suffice and you'll most likely be shooting on a table near a window.
However, you'll eventually want more control over your how your images look but, the number of options available can be overwhelming and pricey. But fear not, food photographer Joanie Simon knows your pain and has an affordable lighting solution to help get consistent looks and raise the quality of your photography.
[REWIND: Product Photography Tips | Deconstructing The Product Shot With Karl Taylor]
Gear Used
Lowel Ego Light* – $106.95
5-in-1Relfector w/Stand – $65.99
Heavy Duty Muslin Clamp – $7.98
*Be sure to purchase the light that is made your part of the world as there a US and European model.
Lowel Ego Considerations
Pros
Affordable
Small and easy to reposition and transport
Cons
Not a strong source of light
A small source of light
A small light source will create a harsh light with more pronounced shadows. This may be a look that you want but, if you want to get the most of your light and use it to create different looks, you'll need to soften it.
The best way to create soft light that wraps gently around your subject is to have a large light source that is positioned close to your scene. Since the Lowel Ego is a small light source that creates a harsh light, a diffuser placed in front of it will increase the spread of the light and soften it as it hits your food. You'll need to play with the distance from the light and your food to lock in on the look you want.
Another way to fill those shadows is a bounce card that will push light back into your shadows. A small piece of foam core or another 5-in-1 reflector will serve you well here.
The following video is just shy of ten minutes and is packed full of great information. Joanie's YouTube Channel "The Bite Shot" is relatively new to the scene and she has a way of showcasing lessons in an enjoyable way.
Find Joanie Simon on YouTube
Follow Joanie Simon on Instagram
See Joanie Simon's Portfolio
Additional Articles on Food Photography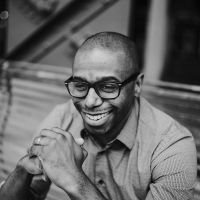 Wendell Weithers
Wendell is based in Atlanta where he shoots events, portraits, and food photography. He also supports his wife Andrea as she runs their cake design business, Sweet Details. Instagram:
Wendellwphoto