We live in a world of superlatives and emphatic ballooned statements, that in all reality the very poignancy of the terms and phrases has been diluted. 'Game changing,' 'revolutionary,' is tacked onto anything new, and of course everyone's favorite adjective, 'Epic,' (which, by the way, will force me to be sick on you if said in my presence).
Of course, these sorts of terms can mean more or less depending on the source, and in our world, the image world, few people have the reputation and gravitas to distinguish something as game-changing or to repudiate such a claim, as Chase Jarvis. According to Chase, democratization of the tech by bringing it to the masses is a key element, and in case you were unaware, Chase has done photo and video work with names like Apple, Nike, Nikon, and that's the tip of the iceberg. He's also a founder and COO of Creative Live, on the forefront of our field, and the education within it.
Chase has very recently shared his initial thoughts on a product he feels really is game changing, and it once again comes from the geniuses at Freefly Systems – a team familiar with game changers like the MOVI stabilized camera gimbal system, that in Chase's words, "redefines camera stabilization.' Their new product MIMIC brings an entirely intuitive and organic means to control cinema/video cameras.
How revolutionary can this be? Well, first it should be stated that this system isn't about changing camera settings, but to remotely control what the camera actually sees. Essentially, it will allow you to control a stabilized camera from your director's chair in a way that has to be seen to be fully understood and believed. It looks incredibly fun, incredibly easy, and the ease of which will allow anyone at any level of filmmaking to 'up' their creations.
This sort of thing doesn't come cheap, but then again for what it is, it doesn't come in too expensive either. The product is very new, but Chase Jarvis and CreativeLive, in conjunction with Freefly Systems, are making it possible for you to walk home with an incredible gear package consisting of the MIMIC controller system, the MOVI m5, (already a value of $5K) and, in addition, a personal lesson from Chase and the guys at Freefly.
You can head over to Chase's original CreativeLive post to get more of Chase's thoughts on this new tech, and info on how to take home this enviable bundle of gear and the lesson.
You can also learn more about Chase on his site, and more from Freefly on theirs.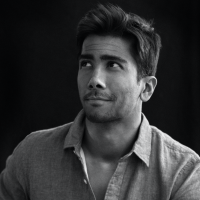 Kishore Sawh
A photographer and writer based in Miami, he can often be found at dog parks, and airports in London and Toronto. He is also a tremendous fan of flossing and the happiest guy around when the company's good.