The doors of CES are officially open now, so queue the influx of announcements of new and interesting products to soon hit store shelves. Brand-new for CES 2018, LaCie has announced a new backup solution with DJI, and it's labeled the DJI Copilot. The new collaborative drive is a BOSS (Backup On-Set Solution) that is designed for in-field backup and data management without a computer. Forgoing the icon orange jacket of the Rugged series, the new gray shell matches the color scheme of DJI's own drones.
The Copilot is not DJI's fist partnership with an external hard drive manufacturer, with the DJI Fly Drive available for some time. The new drive from LaCie, however, distinguishes itself from its predecessor with more ports and a monochrome LCD display on top. Files can be copied directly to the DJI Copilot's 2TB internal drive using the included USB Type-C, USB Type-A, Lightning, and micro-USB cables, along with the integrated SD card reader and USB 3 Port.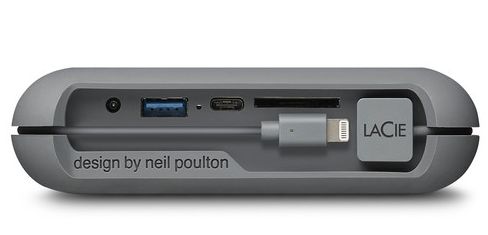 Features:
Organize and view files via the Copilot Boss app
Built-in power bank to charge your mobile devices
2TB of storage for 65 hours of 4K 30fps video or 20,000 Photos
One-month free trial of Adobe Creative Cloud
Additional cables and adapters (lightning, Micro-USB, Type-C USB, microSD to SD)
Three-year warranty
File transfers are managed using the Copilot's top-mounted LCD display or using the accompanying DJI BOSS app, allowing your mobile device to manage files and preview photos. A full charge can expect to backup roughly 30 hours of 4K footage. Available in the Spring, the LaCie DJI Copilot's street price will $349  and will only be available in a  2 TB model at this time.
Justin Heyes
Justin Heyes wants to live in a world where we have near misses and absolute hits; great love and small disasters. Starting his career as a gaffer, he has done work for QVC and The Rachel Ray Show, but quickly fell in love with photography. When he's not building arcade machines, you can find him at local flea markets or attending car shows. Explore his photographic endeavors
here
. Website:
Justin Heyes
Instagram:
@jheyesphoto