Canon Rumors has reported that counterfeit Canon 50mm f/1.8 II lenses have been appearing in servicing centers lately, and while these products have "neither been designed nor manufactured by Canon…they fraudulently display the Canon logo and other Canon trademarks". Not only is this an infringement on Canon's intellectual property, but an injustice for Canon camera users being duped into thinking they are buying original gear.
how to tell if the item is counterfeit
While the exterior of the lens may look identical to the product, the parts and electric circuits used inside the counterfeit lens is truly what matters. So how does one recognize the fake judging from the looks of the lens? Canon themselves released a report that displays the subtle difference between the two lenses:
While this isn't the newer, updated STM version of the lens, the beloved 'Nifty Fifty' Mark II is widely purchased due to its inexpensive price, but with this recent revelation you could be dropping $100 on a complete fake. At Canon's service centers they have displays showing the different counterfeit products being sold on online that are duping consumers into believing that they purchased original Canon goods, and the differences are negligible, so a careful look is warranted. Luckily, Canon's support center is always available for questions and reports pertaining to counterfeit items and also has resources on where to find genuine Canon products.
Source: Canon USA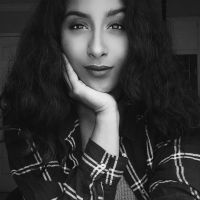 Shivani Reddy
Shivani wants to live in a world where laughter is the cure to pretty much everything. Since she can't claim "Serial Bingewatcher" as an occupation, she'll settle for wedding/portrait photographer at Lin and Jirsa & marketing coordinator here at SLR Lounge. For those rare moments when you won't find a camera in her hand, she will be dancing, eating a donut, or most likely watching Seinfeld. Follow her on Instagram:
@shivalry_inc