Whichever side of whichever fence you're on these ddys, it's probably a fair assessment that peeking through the window of your living room, or a window on your computer, provides a view that's a bit tumultuous. A bit dreary. A bit depressing. Many of our routine activities seem inconsequential even, and as photographers, we are all too aware the medium we deal in is superficial.
But if that thought dawns on you, if your chin is down, perhaps it's good to recall that what we do couldn't be of more importance. Remember that it's the arts that civilization aims for through progress and for enjoyment; it's the respite of the mind and it can carve out joy and serenity and appreciation in times of difficulty. This is precisely the kind of feeling you're likely to hold when you're looking at John Lucarelli's photos of 'that salty life', though he would likely, humbly, not mention it.
Based out of California, there's no doubt that his immediate environment has a direct association with his work, though his sense of passion for travel and adventure probably define its details. There's a great intersection in John's work of movement and serenity, and it's not hard to see why his work has been picked up and published by the likes of Surfing Magazine, The Surfers Journal, White Horses, Water Journal, PaperSea, Stab, Riptide, and Surfline. We managed to pry some time from of John, a proud new dad, to pick his brain on his gear, and get advice on how he does what he does for some actionable advice.
Gear List:
Post Processing:
Growing up around the beach, the association is a rather obvious one, but it was a combination of travel and wanting to document it that drew John to shoot what and how he does.
"I bought a housing and started shooting in the water and it was like the best of both worlds…still being able to be out in the ocean enjoying the surf, while challenging myself to capture photos and new perspectives from the water.  It was a great way share the things I have enjoyed doing for so long with people who may not be out there in the waves."


Challenges Shooting In This Arena
JL: First and foremost, just trying to swim out amongst the surf, sometimes 10-20 FT and being able to look through the viewfinder to compose an image, dial in settings, ensure focus, all while swimming with the water housing, maybe 10+ pounds.  There is a small window of area to shoot in the waves – too far inside and you are having to constantly duck underneath the whitewash, and too far outside and you miss the action before the waves break. so it is a constant battle to stay in the right position in the lineup and have a chance for a good shot. And then you have the surfboards and skegs to worry about.  You are trying to share these waves with the riders and putting yourself in position to get a shot, but also dangerously close to their board and skegs. I have been run over and skegged before by a rider I was shooting, and it put me out of the water for a few weeks.  So an intimate knowledge of the waves, the surfers around you and where they are going to be is important.  It takes lots of practice.


How To Differentiate In A Saturated Market
JL: I try to focus on the feelings you get as a surfer being out in the water, the little in-between moments as well as the action. I like to focus on the intricacies of waves as well; their shapes, forms, color, symmetry.  I shoot primarily at sunrise and sunset to capture all the color from the sky reflecting on the waves and ocean, and I also experiment a lot with slower shutter speeds, and trying to convey the motion and energy of the wave, which, while floating/swimming, is a challenge, but so rewarding when you get a good one.  Using a longer lens to hone in on the details is also a good one, which requires looking through the viewfinder, as opposed to just shooting with a wide angle lens and holding the camera out to get a shot.


Advice For Shooting In Water
JL: If you are going to try and shoot from the water, make sure you are a good swimmer and comfortable in the waves and the situation.  Start in empty lineups and smaller conditions and work your way up.  It's also good to link up with surfers/riders to have a plan on what type of shots you are trying to capture, where you need to be in the lineup, and also have someone watching your back out in the water.  As with any photography, I think its good to have a fresh outlook on shots, try to focus in on your own style, not replicate what everyone else is doing.  try new angles, new locations, new equipment.  Don't be afraid to experiment, it can lead to amazing results!
You can check out more from John on his site and Instagram, and frankly, you should.
CREDITS: All photographs shared by John Lucarelli are copyrighted and have been used with permission for SLR Lounge. Do not copy, modify or re-post this article or images without express permission from SLR Lounge and the artist.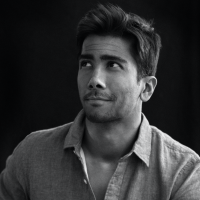 Kishore Sawh
A photographer and writer based in Miami, he can often be found at dog parks, and airports in London and Toronto. He is also a tremendous fan of flossing and the happiest guy around when the company's good.