At first glance, Nathan Ikon Crumpton's images look like a crazy computer mishap. But when you look closer, you can see the beauty of two perfectly merged photos into one amazing masterpiece. His split portraits are nothing short of show stopping.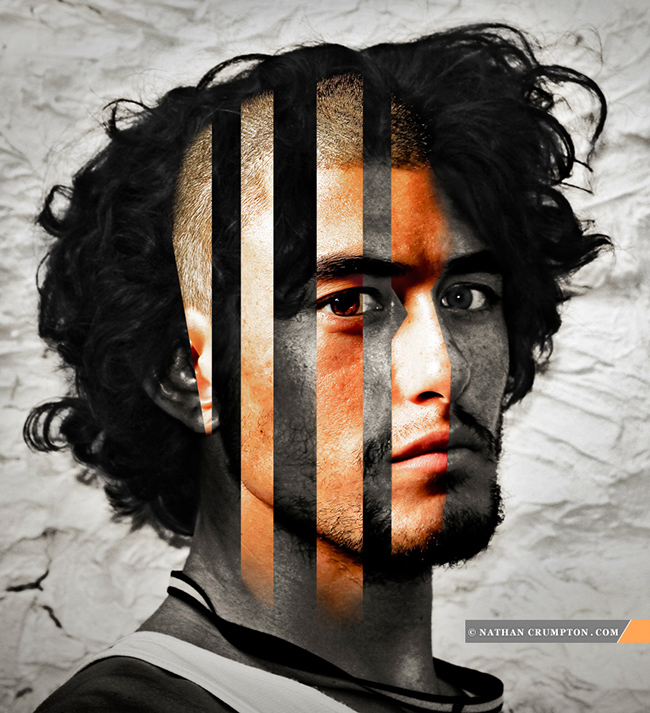 I had the privilege to sit down with Nathan and talk about his work, and get inside the mind of this true creative.
What inspired you to start doing split portraits?
Back in 2010 to 2011, I grew my hair out for an entire year, only to shave it off before summer started. I wanted to capture both the before and after in a single image – that is what gave me the original idea for the first photo. I liked the way it turned out as it lent a multi-dimensional perspective to the typical headshot. So, from there, I decided to continue making split portraits.
How did you start? Did you encounter any hurdles?
The most difficult part is lining up the features between photographs, as they never do fit perfectly. It requires a lot of transformation and warping in Photoshop in order to get the facial features to align. Then once they are all aligned, it becomes a challenge to find an interesting blend between the two. Although it may look like a simple blend, the most recent set of portraits had 12 layers and 8 masks to make it complete.
How do you find your ideas?
Often times it is a mixture of boredom and curiosity. If I have some spare time, I will start playing around with one of my cameras or start a new Photoshop project with just a blank canvas and see where things take me. 
Do you sketch out your ideas before hand or just go with it?
Most of my ideas come from idle thinking, whether driving in my car, working out or cooking a meal. I'll mentally go through my portfolio and think of different things that I could do with various photos. But I also get a lot of inspiration from other photographers and artists. I experiment with different elements from their work.
How did you get your start in photography?
I started as a sports photographer for The Daily Princetonian, during my sophmore year of college and have been shooting ever since. During my junior year, I configured a desktop computer into a server, ran a website directly from my dorm, and began selling prints to the athletes and families I shot. I branched out from there into different areas of photography — whatever caught my eye really — and it has been a journey of non-stop exploration since.
Do you have a favorite photograph, and why?
From my own portfolio? That is tough. I don't think I have a single favorite. But from recent memory, I quite like one I took in Hawaii. It's from Lanikai beach, looking out at the Mokulua islands. It is simple, but it bends enough compositional rules to keep it from being cliche. Not to mention, it is from one of the most beautiful places I have been. On a personal level, that view always inspires me. 
Are there any photographers that inspire you?
So many. I love Marc Adamus, for his supra-realism but without being ostentatious. His colors, composition and detail catch my envy and admiration. Adam Burton and Patrick Di Fruscia have amazing nature work. I also learned a great deal from a former National Geographic photographer and Ansel Adams student, David Pfau, who has been kind enough to host some of my work in his gallery. But I would have to say the biggest influence on my aesthetic is Andrew L Moore, my teacher and mentor when I was an undergrad at Princeton. I was able to work closely with him for a semester in a small seminar on advanced photography. It shaped the way I perceived the artistic world. 
What equipment do you use?
I shoot mostly Canon, but I enjoy working with a variety of equipment. GoPro has invented a fantastic camera, and one I use from time to time. For editing, I primarily work with Lightroom and Photoshop, but I want to explore some more niche programs in the future. Perhaps my next project will come from that.
What advice do you have for photographers?
Learn the artistic rules first, then learn to bend them. Always respect your subject. And of course, have fun!
To see more of Nathan Ikon Crumpton work check out his website, google+, or follow him on twitter.
CREDITS: Photographs by Nathan Ikon Crumpton are copyrighted and have been used with permission for SLR Lounge. Do not copy, modify, or re-post this article or image without express permission from SLR Lounge and the artist.
Teagan Alex
Teagan Alex is an Event and Fine Art Photographer based in Salt Lake City Utah. She believes that all people are inherently beautiful, and loves to capture the details of the world around her. She received her BFA degree from UVU in photography and since has been published in books and magazines, multiple gallery shows, and won best in show for her work. Visit her website at
teaganalex.com
and connect with her via
Facebook
or
Instagram
.