Canon has a very mixed reputation among photographers and some of the recent updates to the camera bodies have been underwhelming. Love them or hate them, however, there is one thing most can agree on: Canon glass is something that they do notoriously well.
Canon recently announced the highly anticipated 85mm f/1.4L IS USM and a series of three new macro tilt-shift lenses which are the first of their kind in the Canon Lineup. They are: the TS-E 50mm f/2.8L Macro, TS-E 90mm f/2.8L Macro and TS-E 135mm f/4L Macro.
All four of the new lenses are proudly on display at Photo Plus Expo in New York City for a hands-on experience prior to being made available for purchase next month.
Canon EF 85mm f/1.4L IS USM Lens
Portrait photographers have been eagerly awaiting Canon's first ever 85mm lens with built-in image stabilization. Canon has stated that this newest portrait king does indeed focus faster than the prized 1.2L and the sharpness is on the same playing field. IS will be a necessity for many going into the future as the megapixel count continues to rise.
Tilt-Shift Lenses
The announcement of the tilt-shift lenses created a buzz within the photography community and have many anxiously awaiting to get their hands on them. Tilt-shift offer photographers more creative control with depth of field and perspective. The enhanced creativity provided by these lenses are great for portraiture, landscape and architecture.
Canon POWERSHOT G1 X MARK III
The Canon Powershot G1 X is a peculiar camera with a lot more than meets the eye. The G1 X Mark III is weather resistant, compact and comes with a touch screen for an easily customizable menu. Upon first glance it appears to be a jack of all trades, however, the fixed lens makes it more attune for a specific niche market; particularly a travel companion or a complimentary camera to another APS-C system like the Canon 7D Mark II.
All products are slated to be available for purchase in November. Click here to view the full press release.
We'd like to extend a special thanks to B&H for their sponsorship of this trip, allowing us to bring you coverage of all the best and new from PhotoPlus 2017.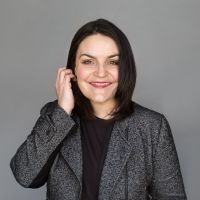 Brittany Smith
Brittany is a fashion and beauty photographer who works between NYC, Montana and LA. She photographs the way she has always wanted to feel and believes in the power of raw simplicity. When not behind a camera she can usually be found at a local coffeeshop, teaching fitness classes at the YMCA, or baking something fabulous in the kitchen. Instagram: @brittanysmithphoto