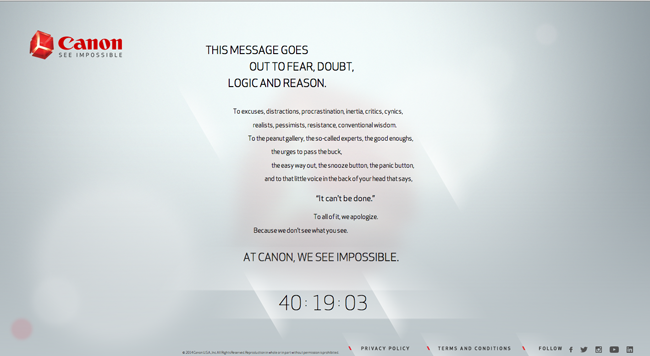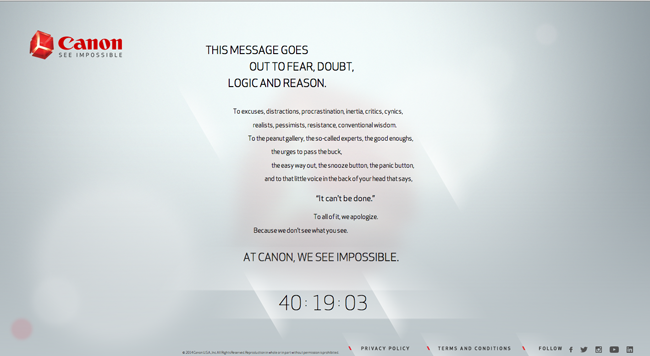 What is it?!
Taking out a large New York Times ad, Canon once again has us speculating and wondering what the company is cooking up. The following message has us all guessing over here, marking it a smart marketing ploy…
THIS MESSAGE GOES
OUT TO FEAR, DOUBT,
LOGIC AND REASON.
To excuses, distractions, procrastination, inertia, critics, cynics,
realists, pessimists, resistance, conventional wisdom.
To the peanut gallery, the so-called experts, the good enoughs,
the urges to pass the buck,
the easy way out, the snooze button, the panic button,
and to that little voice in the back of your head that says,
"It can't be done."
To all of it, we apologize.
Because we don't see what you see.
AT CANON, WE SEE IMPOSSIBLE
With such a buildup and the addition of a countdown clock (which has some 40 hours left at the time of this writing and you can see here), there will bound to be people disappointed (as usual) with the big announcement (it's been known to happen, see Canon's "Something BIG is coming" letdown tease here). Could it be the rumored Canon 11-24mm  f/4L we discussed yesterday? Or a high megapixel camera body? Perhaps a new mirrorless?
Or is it even related to photography at all? Looking at the light up red box logo and a reminder that Canon does make copy machines and printers (snore….), I wouldn't get your hopes up that this is some brand new super camera or glass…though, ending with "See the impossible" kind of gets your hopes up doesn't it?
Perhaps a Stella Mccartney limited edition camera bag with a matching camera? Oh wait…
Well, we have until Tuesday morning to speculate, and you can do so in the comment section below…
[Via CanonWatch]
Hanssie
Hanssie is a Southern California-based writer and sometimes portrait and wedding photographer. In her free time, she homeschools, works out, rescues dogs and works in marketing for SLR Lounge. She also blogs about her adventures and about fitness when she's not sick of writing so much. Check out her work and her blog at
www.hanssie.com
. Follow her on
Instagram