If you were to walk into a room full of working photographers and use them as a sounding board of advice as to a great all around lens, you are bound to heed numerous recommendations of the 50mm lens. It is one of the most versatile and adaptable lenses and can be used to capture an entire fashion shoot or even a wedding.
There are several nifty fifty options on the market ranging from just over $100 on the low end to over $1,300 on the high end. The differences in image quality among the models is nominal in normal shooting conditions, however, what about more adverse conditions?
Australia based fashion photographer Julia Trotti compares the performance of the Canon 50mm f/1.4 and the Canon 50mm f/1.2L during a fashion shoot in the rain.
The Gear
Canon EF 50mm f/1.4 USM Lens – $349
Canon EF 50mm f/1.2L USM Lens – $1,349
Both lenses were used in combination with the same camera settings and Julia captured stunning images with each of them throughout the shoot. This begs the question as to whether or not the quality of the L-glass justifies its price tag.
Julia was able to utilize auto focus with both lenses, albeit the 50mm f/1.4 was much slower and it did eventually achieve focus. The f/1.4 also began fogging up as water droplets made their way into the lens. This impacted the overall image quality as well as caused the auto focus to slightly miss almost as much as it hit.
The 50mm f/1.2L, on the other hand, has a higher build quality and is weather-sealed. It focused faster and provided more consistency in image quality throughout the shoot while rarely missing focus. Adverse weather conditions would be a non-issue for this lens as opposed to its f/1.4 counterpart, but is it worth spending $1,000 more?
[Check out our Canon RF 50mm F1.2L Vs. Canon EF 50mm F1.2 Showdown]
Julia has used both lenses throughout her career and can attest that both are sufficient and produce adequate results. The f/1.4 is a great portrait and all around lens for anyone getting into photography and the price is right. The reliability and weather-sealing of the 50mm f/1.2L is worth the investment and peace of mind for those who spend a great time working outdoors. Remember that you can also rent these lenses and see which ones work best for you.
Although this is the first time we are featuring Julia Trotti on SLR Lounge, it most likely won't be the last. She is a joy to watch and has a knack of packing a lot of information into her videos and delivering them in a clear and concise way.
Be sure to check out and subscribe to Julia's YouTube Channel for more great content and keep up with her on Instagram.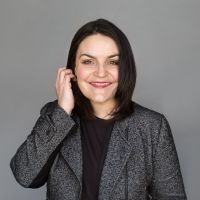 Brittany Smith
Brittany is a fashion and beauty photographer who works between NYC, Montana and LA. She photographs the way she has always wanted to feel and believes in the power of raw simplicity. When not behind a camera she can usually be found at a local coffeeshop, teaching fitness classes at the YMCA, or baking something fabulous in the kitchen. Instagram: @brittanysmithphoto