I've been officially dubbed the 'Train Track Police' here at SLR Lounge, and I'm sad to report yet another photographer fatality on the tracks. As reported by Variety, a second camera assistant was hit and killed by a freight train Thursday afternoon while filming the Gregg Allman biopic "Midnight Rider," in Wayne County, GA. Four other people were injured in the accident as well.
The crew was filming a dream sequence for the upcoming film starring William Hurt. They had placed a bed on a railroad trestle, when an unexpected train crossed the bridge, giving the crew less than a minute to get out of the way. Unfortunately, one assistant didn't make it, and others were injured by debris from the bed, which exploded after being hit by the train.
No details are given about why the crew was filming on active tracks. I'm surprised a production of this caliber was not using a closed off section of tracks with specifically timed and controlled train usage. While I don't have all the facts about this specific case, I urge photographers everywhere to use caution near railroad tracks, make sure you have the necessary permits and permission to use the tracks in any production and, in general, just stay OFF the tracks!
Review our specific reasons for staying off the tracks (and safety guidelines from Operation Lifesaver) in the following articles:
4 REASONS YOU SHOULDN'T TAKE PORTRAITS ON RAILROAD TRACKS
THE 5TH REASON PHOTOGRAPHERS SHOULD STAY OFF THE TRACKS
Please help us keep our photography community safe by spreading the word and speaking up when you see photographers on tracks.
via @Daily Mail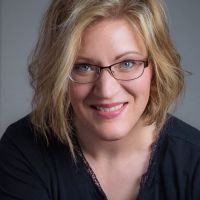 Tanya Goodall Smith
Tanya is the owner of WorkStory Branding Photography in Spokane, WA. Businesses hire her to create story-telling content that sells their high end products and services. She also teachings photographers her unique business model for making serious money as a corporate and personal branding photographer. Find her at
workstoryphotography.com
and
workstoryeducation.com