I don't think anyone would begrudge me in saying that everyone appreciates a good photography DIY. The focal word there being 'good' because there is a bottomless pit of DIY projects out there, but so very few are actually worth your time. And time, is generally the currency with a DIY project, not money, neither of which we want to waste.
Once in a while someone comes along with a DIY idea and demonstration that really catches the fancy and intrigue of our community and the one featured here today is one such. It's a relatively simple build V-Flat system that can modulate with various catchlight shapes.
We have Ohio-based portrait and commerce photographer Nick Fancher to thank for this little gem, and to little surprise since Nick is the author of Studio Anywhere, A Photographer's Guide To Shooting In Unconventional Locations. Basically, Nick seems to like to break down and rewrite the definition of what a photo studio actually is.
Strangely, V-Flats are one of those pieces of equipment that seems to elude the average photographer. It seems many think of them only in a professional context, and thus that they would only be in a professional studio environment, but they really needn't be. Most photographers can make great use of V-Flats, and they can be built DIY style using equipment and materials well within the range of pretty much anyone's budget.
You can spend a lot of money making your own V-Flats if you have specific needs and materials in mind, but effective V-Flats can be made on the cheap and on the fly using foam board. Essentially, you would be taking two large pieces of board, connecting them in the center with gaffer's tape, so that the boards form the shape of a V. You can use them as reflectors, use them for fill, or like me, typically use them as large flags.
What Fancher has done here is take the basic idea and build of a V-Flat and created something of a shoot-through system out of them, using white panels or white tape in certain shapes to give interesting and different catchlights. It's reminiscent of the type of lighting set-up that made Martin Schoeller famous, but certainly less costly.
Check out the video below, and much more from Fancher on Instagram, and his site, where you can also buy his book full of more of these types of ideas.
Source: ISO1200, images are screen captures from featured video and Nick Fancher's Instagram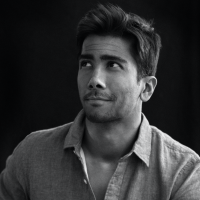 Kishore Sawh
A photographer and writer based in Miami, he can often be found at dog parks, and airports in London and Toronto. He is also a tremendous fan of flossing and the happiest guy around when the company's good.