What would you do if you found out someone dear to you was about to be moved into hospice care? Well, when Becky A. Carey got that heartbreaking news, she called off the engagement photos with her fiance to race back to her childhood home and take photos with her terminally ill father instead!
As reported by Southern Living, the story began back in early 2018 when Becky Carey and her future groom, Matt, had been going back and forth with photographer Bonnie Turner to repeatedly reschedule their engagement photo session due to weather. In September of 2018, Becky reached out to Bonnie requesting to reschedule their appointment once again but for a very different reason. Carey apologized for having to shuffle the plans around, and shared tragic news:
"My dad [Tim] has been fighting prostate cancer and his body is now at the point where it can't handle more treatment. We found out yesterday that he starts hospice this week," she wrote, asking if Turner could use the deposit for the engagement photos for a "family photo session" instead.
"Matt and I will worry about our photos later, because this is more pressing with time," Carey continued. "Of course this is a very difficult and dark time, but I know how you feel about love and capturing it so beautifully and meaningfully."
Naturally, Turner agreed, and in November of 2018 she traveled to the family home on the same day that the bride's videographer friend was filming "first dance" footage of the dad and daughter, in case her dad would not be there for the wedding day.
Becky put on her wedding dress and shared her dance with her ailing father in the backyard of the home where she was raised. Bonnie captured a series of gorgeous images of Becky and Tim dancing, smiling, and laughing together, which will be a precious memento for the whole family, especially the bride-to-be.
Sadly, after a long battle with cancer, Tim passed away on March 28, 2019, (before his daughter's upcoming wedding day). Thankfully, Becky and her family will have these photos and the video her friend made to hold on to.
"My heart is heavy today as I have been informed of his passing. He fought so hard for a very long time," Turner wrote on Facebook of his passing, sharing the images online.
"These photos are near and dear to this family and most of all, special to [Becky.] Photographs and memories are EVERYTHING when they are all you have left," she said of the shoot.
Since Tim's passing, the powerful tale of this dad and daughter has gone viral from Turner's post (even showing up on several news outlets), with over 84,000 likes, 34,000 shares, and over 5,000 comments flooded with love and support.
"I've never done such an emotional session. I've photographed several father daughter dances but this one filled me with more tears because I'm a daddy's girl and I could never imagine having to do what Becky did. I am so honored that she knows how I feel about photos and my joy for capturing love so meaningfully and beautifully."

"We as creatives have our styles and what we feel are ideal locations and sessions. Those places we feel that we can't make magic in, but truly can. These photos speak to me and others on so many levels." – Bonnie Turner
You can find the GoFundMe Page for the Carey Family Memorial Here that was created by Bonnie on behalf of the Carey family.
All images and story shared with permission from Bonnie Turner Photography. Do not copy of modify without direct consent.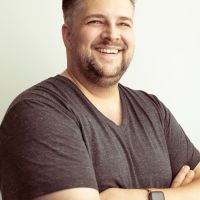 David J. Crewe
David J. Crewe is a full-time commercial photographer and Senior Editor with SLR Lounge. Based out of both Southern California & Las Vegas, Nevada. View his work and blog:
DavidJCrewe.com
Follow his Instagram:
@DavidJCrewe