Competition
When you think about it, all of life is a competition. From the beginning of time, we have had to compete against the odds to live, eat, and create. Even if you hate to compete, you still find yourself fighting to adhere to beliefs, preferences, and goals without even realizing that you might be competing. It gets kind of existential if you really think about it, so we won't!
Instead, I'd like to introduce our first SLR Lounge Writer's Shootout. We felt like we didn't have enough going on in our lives, so we decided that we should introduce a bit of competition while giving ourselves an excuse to try out a new technique. If it inspires you to pick up the camera and try something different, all the better!
El Bokeh Wall
For our first challenge, we went with something pretty straightforward and tried to keep the restrictions to creativity minimal. The only requirement was that we had to create one image using the "El Bokeh Wall" technique that was posted by Laya Gerlock on Petapixel and Bored Panda. If you would like to create a bokeh wall, it's pretty simple:
Grab the aluminum foil from the kitchen
Crumple it up a bit
Flatten it back out
Tape it to your background
Ensure there's a bit of space between your subject and the background and fire away! You can play with different colored backgrounds by adding gels to your lighting. It's a lot of fun and a great way to switch things up.
Since I organized our little competition, I was privy to the images coming in and have been anxious to share them with everyone. So, without further ado, let's take a look at our writer's submissions!
(Note: Due to busy schedules and timing, not everyone was able to participate. Hopefully, we'll be able to schedule it so more of the gang can be involved next time).
Justin Heyes
Justin went all "epic comic book" on us with this super cool image of Batgirl. He captured this one with his Fuji X-T1 and 56mm @ f/1.2 to blur out the foil background. For lighting, he used a Yongnuo 560IV with MagMod (full CTO, diffuser, and ND gel). Other lighting used was an Ultra Fire flashlight for the cape, a Grip LED bar for key lighting, and a DIY LED bar for uplighting.
His flash was placed under the table that Batgirl is resting on and focused on the foil background. The Grip LED Bar was feathered to light her face, and the DIY LED is just out of the bottom of the frame. Justin partially blocked some of the light from the flashlight with his hand to create the cool highlights on her cape.
Andy & Amii Kauth
Our Dynamic Duo, Amii and Andy, had the chance to use our bokeh wall shootout in the real world with a wedding they shot last week, and they took advantage of it like a BOSS! (Or a couple of BOSSES! Whatever). The gear used was the always popular Nikon D750 with a 50mm f/1.8G on a 1990's-era Tamron teleconverter and shot through a double convex lens to create a "macro look."
They set the ring toward the edge of a cloudy glass table and let their lighting do the rest. It was a fairly simple, yet incredibly effective, setup. They had a Nikon SB-910 with the MagMod grid to the right of the camera pointing directly at the ring, and a gridded Nikon SB-700 from camera left + behind the ring pointing at the foil (an assistant held this light and the foil).
The result is an incredible image that still kind of trips me out when trying to picture what this would look like "behind the scenes."
Lauchlan Toal
Lauchlan went all artsy and really worked to channel the "spirit" of the diamond necklace he used for this shot. He connected the wave-like look of the necklace with water (naturally) and decided to incorporate that connection into the shot. He placed the foil behind the water so it would reflect off the water's surface and lit the foil with a green-gelled Speedlight on the right side. To light the necklace, he used a Speedlight in the back left to light two pieces of foamboard in the front of the necklace. The light reflected off the foam to light up the metal on the necklace.
This setup was a difficult one to nail in terms of exposure, so he ended up taking a couple of shots at different exposures and blending them to arrive at the image above where both the necklace and the water are properly exposed.
(Gear: Nikon D610 with Sigma 105mm OS macro + 2x Yonguo YN-560iii's)
Matthew Saville
I think Matt probably wins the prize for quickest turnaround time (except maybe for Andy & Amii) for his shot as he said it took no more than 10 minutes total. He used his iPad mini under the ring for the reflective surface at the bottom, got it nearly eye-level for the camera, put the "bokeh wall" about twice the distance from the lens to the ring, and played around with the placement of his daylight balanced flashlight and the tungsten balanced ambient light to get the lighting he wanted.
Gear used was a Nikon D750 with an old Tamron 90mm f/2.5 on a Manfrotto 709 table top tripod and a Coast Flashlight.
The result is beautiful! Certainly appears to be more than a 10-minute shot from setup to completion.
Matt also took the game to an entirely different level by giving us a super cool time-lapse, behind the scenes video of his setup and final shots. Thanks for making us look bad, sir! Not bitter or anything, just saying…
Michael Henson
I knew going into this that I would be up against some incredibly creative and technically superior photographers. So I attempted to do something a bit different. I used some leftover flowers from a styled wedding shoot I just completed as my subject. I wanted to "levitate" them a bit, so I suspended them in bouquet form from a boom stand (just out of the frame to the top) using some fishing line. I'm in a confined space, so my distance between the flowers and the foil was only a foot or two (maybe less). Because my subject is a bit larger than a ring or necklace, I had to get a bit further away from my subject in order to fit it into the frame. I'm rocking the Nikon D7100 with a 50mm f/1.8G, so that wasn't quite as easy as it sounds in the space I had available.
After suspending the flowers over a piece of black acrylic, I set a Neewer Speedlight up with the MagMod grid to camera right with some black foam board between the light and the foil to keep my main light from spilling onto the background. To the left of the flowers, I had my Yonguo YN-560 ii laying on the table with the MagMod gel system with a gel + diffuser pointing directly at the foil.
Once I got a shot I was happy with, I brought it into Adobe Lightroom and cloned out any hints of the fishing line. The end result isn't too shabby, in my incredibly humble opinion, of course!
What do you think?
The real question is what do you, the illustrious readers, think? To vote on your favorite shot from the " El Bokeh Wall Shootout," head over to my post in the SLR Lounge Photography Community or comment below with your favorite. Also, feel free to leave us some comments below. We do this because we enjoy helping out and connecting with each of you, but we can't do that without comments!
If you have any ideas, challenges, or concepts that you would like for us to try out on our next shootout, leave those in the comments below as well! We'd like to make this an ongoing project and would love your feedback.
Don't forget to try it yourself!
Share your best El Bokeh Wall shot in the SLR Lounge Photography Community, we'd love to see it! For more tips and tricks, don't forget to check out Lighting 101 & Lighting 201. They'll upgrade your photography in so many ways!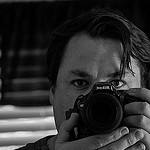 Michael Henson
Michael Henson is a St. Louis based photographer obsessed with everything creative. His photography interests span genres from still life to sports. When he's not running around with his face to the camera or behind a keyboard writing, you can typically find a guitar in his hands or catch him out enjoying life with his family and friends. For more from Michael, bebop on over to: WEBSITE:
Michael Henson
Personal Facebook:
Michael Henson
Business Facebook:
Henson Creative
Instagram:
@michaelehenson