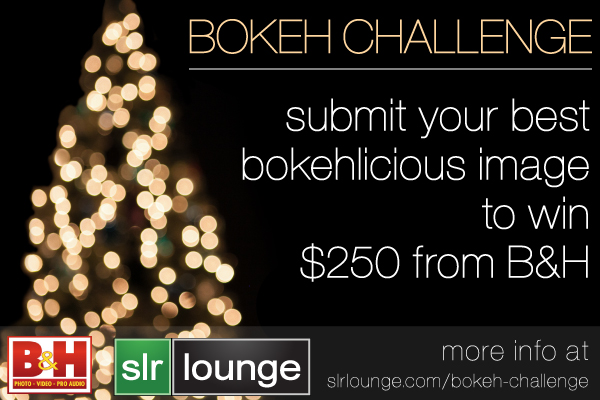 In honor of awesome holiday lights, we're holding Bokeh Challenge! Bokeh, at least for our purposes simply refers to "blur." So the image you submit can be anything that shows off beautiful bokeh, not just lights. Read more below!
What's the Contest?
We're asking you to submit any image of beautiful bokeh. Please List the gear used and your basic settings (we are a photography tutorial site after all). The best image, as chosen by our team (but influenced by the number of Facebook likes), will receive a $250 gift card to B&H.
How to Enter
1) Submit the image to the SLR Lounge forums (as a new thread) HERE
2) List the equipment used (camera, lens, and light source), your basic settings (shutter speed, f-stop and ISO), and a link to your portfolio
3) Publish the Post and share with your friends (the number of likes on your thread will heavily influence the judges' decisions)

3) That's it! Along the way we'll choose our favorites to post on SLR Lounge. The winner is chosen on January 2, 2013. The winner will be chosen based on the quality of the tutorial and not the quality of the image. However, keep in mind that an interesting, eye-catching, or unique image will likely lead to a better tutorial. Note: Our sincerest apologies for accidentally including the previous two sentences. This was an image contest and not a tutorial contest.
Disclaimer
One Entry Per Person so be sure to pick your best one!
Both International and domestic entries allowed.
We reserve the right to publish your images and text to SLR Lounge (with credit given to you of course) . We also reserve the right to modify the text as we see fit prior to publishing the article to SLR Lounge (of course with your credit). We will give you up to two links to your portfolio, website, or social networking site.