For just over a century now, editors-at-large have decided upon and transcribed acceptable standards of beauty. Ranging from the classic Audrey Hepburn to the voluptuous Marilyn Monroe, the 90's supermodels of Cindy Crawford and Naomi Campbell to the lanky and androgynous faces, we have been spoonfed what the ideal body type should be and what beautiful should look like. As the populace continues to embrace and demand diversity, the Body Positive movement is more than just a fad – it's here to stay.
The #ImNoAngel, #CurvesBeReal and #EffYourBeautyStandards hashtags are just a sampling of the recent campaigns that are unabashedly showing the masses what we've been missing; there is beauty in every age and all shapes, sizes, and skin pigmentations. Contrary to many labels that refuse to dress anything larger than a size 12, their mission is inclusion as opposed to exclusivity. Simply put, everyone deserves to feel like a million bucks. This movement has already begun to transform the culture of advertising and will definitely impact the future genres of portraiture.
With the majority of today's women wearing a size 12 or larger, it is staggering that the fashion industry has been so lethargic to adapt, almost digging their heels in the sand at the end of a round of tug-o-war. They have been reticent with this deviation and somewhat blatant with their disregard by refusing to create anything other than their sample sizes, which is ironic because some of their decisions began to set these cultural shifts in motion nearly two decades ago when they began opting for the more familiar faces of celebrities as well as reality faces-of-the-moment to replace the esteemed fashion models on their covers. They also chose Kate Moss, a waif in comparison to the curves of the 90's supermodel generation, who dominated the industry and changed the game entirely.
The Dove 'Real Beauty' Campaign was the first of its kind during this mass exodus from the establishment, making the viewer feel something deep within for the first time in a long time and sparking a real conversation. For decades, Lane Bryant has been renowned for their plus-size line and has transformed their advertising to an in-your-face spectacle with the #This Body series. Meanwhile Marina Rinaldi maintains their tried and true classic approach.
"It seems strange to me that while the rest of the world is desperate for fashion to embrace broader definitions of physical beauty, some of our most famous fashion brands appear to be travelling in the opposite — and, in my opinion, unwise — direction,"

– British Vogue EIC Alexandra Shulman in response to Ashley Graham cover.
Ashley Graham took the world by storm while rocking the cover of the 2016 SI Swimsuit edition. She has since appeared in numerous campaigns, and audaciously strutted the catwalk in her very own Elle lingerie collection during fashion week. While she has been met with some pushback including some major designers not wanting to dress her along the way, Ashley is helping redefine what it is to be beautiful, one magazine cover at a time.
Slowly but surely, the available options for women of all sizes are being unveiled. Christian Siriano and Prabal Gurung are some of the few designers realizing the relevance of this market, offering designer wear to women everywhere. With a multi-billion dollar industry at stake, the plus sized market is seemingly untapped and its potential is just now being realized. Whether the established fashion labels choose to diversify their product or allow other companies to step up and fill that void, specialization in any manner is a win-win for everyone. One thing is clear and that is that magazines and mass marketing companies everywhere are beginning to create ad imagery with everyone in mind, not just a small percentage of the population.
As with any major movement, it has been met with skepticism and backlash. The criticism is that it is enabling an unhealthy society with the "everyone deserves a trophy" mentality when in fact, the only goal is to provide what we have been missing and need more of – confidence. And it's stunning.
In addition, the beauty industry is also adhering to the idea that the essence of beauty is not limited to size. Previously, it was next to impossible for a model to be featured if they were under 5'6″ and/or of a certain age unless they were famous. Cosmetics companies see the prospective possibilities by being more inclusive.
The overwhelming market is shifting with how they view themselves and refusing to be stockpiled in the "one size fits all" category. The future will cease to be limited by the either/or approach in regard to standard sizing and plus sizing. Fashion will no longer be restricted to having to make the choice of beautiful textiles over boring utilitarian garments that fit well. Instead there will be beautiful offerings from a multitude of designers and fashion houses. Periodicals may stick to their guns, but I hope that every once in awhile they make a conscious effort to include variety.
As body acceptance continues to grow, there is a demand for a market that shows women what they've been longing to see in themselves – they are beautiful and no longer defined by stereotypes. It is an exciting time to be a photographer during this empowering revolution and document a pivotal moment in someone's life as they learn to love themselves as they are.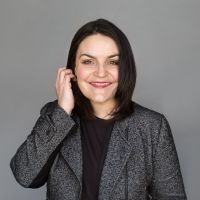 Brittany Smith
Brittany is a fashion and beauty photographer who works between NYC, Montana and LA. She photographs the way she has always wanted to feel and believes in the power of raw simplicity. When not behind a camera she can usually be found at a local coffeeshop, teaching fitness classes at the YMCA, or baking something fabulous in the kitchen. Instagram: @brittanysmithphoto