Do you have what it takes to be an Instagram Husband? If you aren't familiar with this term, it's basically the person behind the lens ready to take your "ootds" at any given moment. Now, some people are actually happily in a relationship with someone who takes bomb photos (y'all found a keeper), but most are taken by blogger photographers such as myself. I've been asked numerous times how I even ended up doing this and how I got myself connected with bloggers in the first place. I thought I'd create a Blogger Photographer Starter Kit for you guys so you know the dos and donts of this field!
What you'll need:
a bomb, charismatic attitude
camera of some sort
transportation vehicle hopefully with tinted windows (aka closet and changing room)
time
Step 1: The Portfolio
Now if you have never shot a blogger before, chances are your credibility is low and it will be harder to find people willing to shoot with you. However, finding close friends to model for you and posting your work on your Instagram will display your work and show that people are comfortable shooting with you. It also shows off your style and people will gravitate towards what they like to have in their own feed. Another great way is to keep updated with popular shoot 'meets' where like-minded photographers meet up and shoot together. Some great ones to check out are "Flask Mob" and "Dirtbag Workshops". You'll meet a ton of cool people who are just as passionate as you are and you might learn a thing or two about your own style just by watching them at work.
Step 2: The Approach
Be personable and relatable, especially if you are a guy photographer approaching a girl. I don't know how many times I've gotten a DM (direct message) from a guy who asked me if they could shoot me but had no portfolio and no photo of himself. If you don't have a portfolio, the least you can do is show your face and be professional about your approach. The best way, in my opinion, is to email them and include a link to your website or Instagram. Mention that you don't have much experience but you would love to expand your practice. Include photos of yourself on your Instagram to show you are an actual human being and not a robot that just wants to connect with chicks.
If you are a girl photographer such as myself, I will be quite frank with you, it is definitely 10x easier. However, you should still maintain professionalism when reaching out to bloggers. There is nothing worse than getting a DM that says "let's shoot" with no context. What happened to "hello"? Adele didn't dedicate an entire song to it for no reason guys.
Step 3: Scheduling
The next step after they agree to shoot with you is to schedule a date, time, and location to meet with them. For most cases, I try to meet at least halfway so it's not too much driving for either party, and usually try to base location off of outfits that they send me photos of to get a good idea of the feel of the shoot. This way we are on the same page when we approach the day. Good communication is key, and I think this goes for both parties since both need to be in unison to make the shoot happen.
Step 4: Shooting
It's the big day. You got your gear, your spirits are up, and you're ready to click that camera away! Remember, however, to still keep things professional when meeting initially as the other party are also meeting a stranger for the first time. Sorry guys, once again, this is mostly directed to you (not excluding the occasional creepy girls, let's not discriminate here. Have you seen the Grudge? That's a chick I'd definitely would not want to be my instahubby). Make sure they are always comfortable and at ease when shooting with you.
Keep note of the weather, posing, what makes them uncomfortable, etc. A big thing to watch out for is directing in a sexual manner. It sounds like a joke, but it has happened to me where the guy would direct me to "fake an orgasm" in order to get the shot he wanted. I was instantly put off and refused to shoot with him again. Unless the shoot is boudoir, lingerie, import model/poster girl status, there shouldn't be a reason to tell a girl to be overtly sexy. Girls who want to look sexy in front of a camera will do it naturally and those are subtle clues you'll pick up on when you start shooting more.
Step 5: Repeat
Once you get the ball rolling, it does become easier to find other bloggers to shoot with. If you are easygoing and friendly, chances are you'll just end up becoming good friends with most of them. The best way to keep finding work is to keep your reputation up of being a great photographer with a great personality. Your qualities will shine through and people will share their experience with you to others!
Some photographers you can follow and get inspiration from:
@ryanbyryanchua
@johnsonnle
@avsthtc
@marklashark
@chasingfoto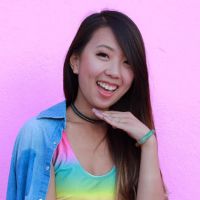 Jennifer Wu
Jennifer is a photographer and graphic designer out in Los Angeles. When she's not shooting fashion bloggers or creating social media content for brands, she's usually bombarding her snapchat with too many photos of her adorable cat or coming up with terrible puns that her friends don't find a-meow-sing