If you've ever felt that the fashion industry could use more diversity, Liberian-born model Deddeh Howard and Swiss photographer Raffael Dickreuter, both currently based in LA, feel you. Being a model/photographer power couple, the pair were uniquely poised to make a powerful statement on this idea via their photo project, "Black Mirror," which by virtue of going viral has already begun to make a difference.
On her experience as a black model, Deddeh says,
…it happened to me that I would walk into various fashion model agencies and I would immediately be compared to that one or two black models that they had on the roster. Even though I was told by those agencies that I have an amazing look and wish they could represent me, they already have a black model.  Besides having an abundance of white models. It seemed as if one or two black models on the roster are enough to represent us all.
Those experiences led Deddeh and Raffael to take on the fashion industry's practices by "mirroring" well known images with Deddeh in place of models like Kendall Jenner and Gigi Hadid, Candice Swanepoel and Gisele Bundchen. They selected high-fashion brands that were notably lacking in diversity with their model choices and painstakingly recreated well-known photographs.
"When I started the project I told  Deddeh that she would have to go up against some of the world's biggest stars and literally go head to head with them," says Raffael. "I instinctively knew that she had it, she just had the skills to do it and not come up short, but appear as equal." Lighting, posing, styling and location were all duplicated as exactly as possible, and without the help of the big budget or large crew the original photographs undoubtedly had.
Through talent and determination, they pulled it off and, arguably, the project has been a resounding success so far. It's been picked up by media outlets from photography websites like this one, to mainstream news like the BBC, generating attention to the cause and discussion wherever it's shared.
The images themselves are impeccably matched for the most part, with exquisite attention to detail. It also calls into question the necessity of the huge crews typically associated with these shoots, given the quality and results seen here.
Check out some more images from the project below, and if you'd like to see Deddeh's blog post on "Black Mirror," you can read it on her blog here. If you like what you see, give both of them a follow on Instagram: @secretofdd and @raffael3d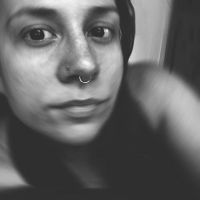 Holly Roa
Seattle based photographer with a side of videography, specializing in work involving animals, but basically a Jill of all trades. Instagram:
@HJRphotos