Welcome to the Photography Deal Tracker for Black Friday, Cyber Monday, Christmas, and everything in between!  Be sure to bookmark this page and visit DAILY as we'll update it with the latest and greatest Deals that we find!
Please comment below if you see any other deals that our community might appreciate.
*Last Updated at 10:54AM, Dec 6, 2019
Tip: Before purchasing any of the items, check the 3 major retailers.  While most have the same (manufacturer determined) sale pricing, some sites may have slightly better pricing.  Consider the three below:
Our Deals
SLR Lounge Premium: $50 off SLR Lounge Premium.
From 11/18/2019 until 12/2/2019, use the code BLACKFRIDAY50 for $50 off SLR Lounge Premium Workshops.
---
VFLOW Presets: Save 20% off the entire bundle!
Spend less time editing, more time shooting with our patent-pending lighting condition-based approach to image processing. Save 20% on the Complete Visual Flow Bundle From 11/18/2019 until 12/2/2019, no coupon code necessary!
---
Featured Deals
---
Gear and Accessories
MagMod "Weekend Sale"
The Weekend Sale starts Friday, November 29th beginning at midnight. Everything on sale! Up to 25% off your entire order plus, PLUS during the first 24-hours they will be giving out bonus $10 of MagCash for every $100 you spend! Free USA shipping on orders over $50.
Westcott Cyber Week Sale – Now until Dec 8th ,2019 – Westcott kicks off its biggest sale of the year! Save up to $1300 on a huge selection of photo and video lighting gear and accessories. Quantities are limited. While Supplies last. No coupon code necessary!
Syrp – 20% off between 11/29 and 12/2.
Syrp, a leader in sliders and motion control technology, is offering 20% off its most popular products. This promotion will vary per country, so check their website for more details. For the United States, visit their B&H store.
Holiday Deals on Canon – Save up to $500 Instantly on Cameras, Lens Kits, & More
Holiday Deals on Pelican Cases – Save 20% on Vault Cases & Personal Utility Cases from Pelican with code HOLIDAY and get Free Shipping on orders $49 and above!
Holiday Deals on Everything Sony – Save up to $600 on a huge selection of lenses, cameras, accessories, and bundles of your favorite Sony gear!
Education and Software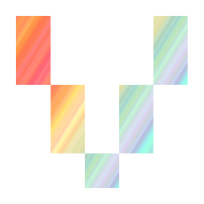 DVLOP – $30-40 Off All Packs
Nov 28 – Dec 2, 2019 – Supercharge your editing with DVLOP's best deal of the year. No Code required. cannot be combined with any other discounts.
Photobooth Supply Co  – Buy a Salsa Booth and get a $249 free Atlas Backdrop Stand! Stop losing money and buy a photo booth to grow your photography business.
Photobooth Supply Co gives you everything you need to easily start, including marketing materials, sample contracts, education, and more! Their average owner makes $71,000 a year and 55% end up purchasing two or more units.
Pixellu – 40% off any SmartAlbums, Smart Slides, and All Apps Bundle Plans November 26 through December 2. Discount automatically applied at checkout.
Pixellu is on a mission to deliver simple and beautiful solutions that are empowering photographers to grow their business, save time, and succeed.
Fstoppers – Save $10-$200 with coupon BF2019
From now until Cyber Monday (Dec 2nd), 2019, save $10-$200 on ALL Fstoppers tutorials with coupon code BF2019
ShootProof – 40% Off 12 Months
Grow Your Business for Less. Save 40% – 12 months billed up front for new users or existing user upgrades
SquareSpace – Get 10% Off
Save 10% off your first subscription of a website or domain with code BLKFRI10
HoneyBook – 50% off the first year of membership
HoneyBook is an all-in-one business management tool for creative business owners who want to grow their business. HoneyBook streamlines their process from first inquiry to final payment with easy to use invoices, contracts and online payments.
Iris Works – 30% off from 11/30-12/2
Running your own business comes with a lot of challenges. Client management doesn't have to be one of them. Get started TODAY and be completely up and running in less than an hour. Use the code BF2019 to save 40% on your first year or subscription upgrade.
Creative Live – Save 60% Site wide!
Answer your creative calling! Master your craft, your passion, or something new with creative classes taught by the worlds best.
Sprout – Up to 30% off
Black Friday deals are available now through December 1st for new and existing Sprout Studio users. New Sprout users can grab a FREE 21 day trial and 30% off annual Sprout Studio plans. Existing Sprout users can save 15% off annual Sprout Studio plans.
Flothemes – 35% off
Start attracting your dream clients with a website that gets you booked. For Black Friday, save 35% on any website design. Also, Squaremuse offers premium designs for creatives who use Squarespace as their website platform. Save up to 45% on any design kit this Black Friday.
SmugMug – Save 40%
Save 40% off your new account during the SmugMug Black Friday and Cyber Monday sale.
Fundy Designer – 30% to 50% off
Take 30% off any Fundy Designer Suite or 50% off upgrades..
Spider Holster – 25% off (with code BF2019) between 11/27 and 12/2.
Get your DSLR and accessories from your hip to your hands in a flash and change the way you carry your gear with Spider Camera Holster products. Spider Holster is having their biggest sale of the year offering 25% off top of the line & high quality camera carrying equipment. Coupons are one time use per customer.
Skylum Luminar 4 – Build Your Own Bundle – Nov 27 – Dec 2
From 11/27 to 12/2 – $79 – $129 – Build your very special bundle that will include Luminar 4 to create mind-blowing images with unique features not available anywhere else. You have the freedom to choose what bonuses you like (for example the highly acclaimed PDF Expert, Envira Gallery, ViewBug, Xpozer and more).
FORMAT – Save 30% off Annual Pro Plan
Create without limits and save 30% off an annual Pro plan for a full year. Get a custom domain, unlimited images, pages, and blog posts, client photo galleries, and so much more using the code BLACKFRIDAY2019 between now and December 2nd.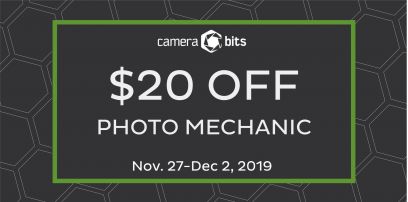 From November 27 – December 2, 2019, we will be offering a discount of $20 off a new Photo Mechanic license, and $10 off an upgraded license! Click the link below to get all the details!
Additional Deals on Apps & Software
Save 30% on all Capture One Products (including Bundles, upgrades and subscriptions) with code BLACK-FRIDAY-19
Bloom.io – 30% off – Run your entire creative business from one beautiful place! Start for free and save 30% on your plan!
JPEGmini – 30% off with coupon BF2019 – This is the key tool image professionals use for print, mobile, and web. Sale active until Midnight, Dec 2nd, 2019
Save 30% on Everything from Affinity Software until Dec 3rd, 2019
Save 50% on your first year with Album Parrot, an online album-proofing service that integrates directly with your online galleries (Shootproof, Zenfolio, Pixieset, Cloudspot, SmugMug & more) – expires Dec. 2nd
Save 65% Off Every Course + Free Toolkit Bundle at Pro EDU
Use Coupon Code SLR-upgrade & Save $30 on the Retouching Toolkit V3
Great Deals on Adobe Creative Cloud Products, 25-60% discounts, freebies and more. Click here!
Save 15% on NBP Plugins with code NINOB015
Get Unlimited Standard Music Licensing from Shutterstock – Only $149/month
---
The Best Lens Deals
---
Sigma Lens Deals
Deals on Tamron Lenses
Nikon AF-P DX NIKKOR 70-300mm f/4.5-6.3G ED Lens – Save $200 – Only $146.95
Nikon 200-500mm f/5.6 E ED VR – Save $200 – Only $1,199.95
Nikon AF-S NIKKOR 80-400mm f/4.5-5.6 G ED VR – Only $2099.95
Nikon 14-24mm f/2.8G ED-IF AF-S – Only $1,596.95
Nikon AF-S NIKKOR 105mm f/1.4E – Save $300! – Only $1896.95
Nikon 24-70mm f/2.8 G ED – Only $1,446.95
Nikon 70-200mm f/2.8E FL ED VR – Save $650! – Only $2,149.95
Nikon NIKKOR Z 50mm f/1.8 S – Save $100 – Only $499.95
Nikon NIKKOR Z 14-30mm f/4 S – Save $200 – Only $1,096.95
Deals on Voigtlander Lenses (Sony E-Mount)
Voigtlander 40mm f/1.2 FE – Save $150 – Only $949
Voigtlander 50mm f/1.2 FE – Save $100 – Only $999
Voigtlander 21mm f/1.4 FE – Save $100 – Only $1,099
Voigtlander 110mm f/2.5 FE – Save $100 – Only $999
Voigtlander 35mm f/1.4 FE – Save $100 – Only $699
Voigtlander 10mm f/5.6 FE – Save $100 – Only $999
Voigtlander Color Skopar 21mm f/3.5 – Save $100 – Only $599
Voigtlander 65mm f/2.0 FE – Save $50 – Only $949
Voigtlander 15mm Skopar – Save $50 – Only $599
Deals on IRIX Lenses
IRIX 15mm f/2.4 Blackstone Lens for Canon, Nikon, or Pentax – Save $36 – Only $639
Deals on Tokina Lenses
Tokina 11-16mm F/2.8 ATX Pro DX II Lens – Save $210 – Only $289
Tokina 100m F/2.8 AT-X M100 AF Pro D Macro AF Lens – Save $50 – Only $349
Deals on Sony Lenses
---
The Best Camera Deals
---
Deals on Canon Cameras – Adorama | B&H
Canon EOS C100 Cinema Camera with Dual Pixel CMOS AF Body – Only $1,299
Canon EOS 5D Mark IV DSLR Camera Body & Storage Kit – Save $741 – Only $2,499
Canon EOS 6D Mark II Camera Body Bundles – Save $400-$650! – B&H
Canon Rebel T6 with 2 Lenses and Accessories – $399!
Canon EOS 5D Mark IV Camera Body Bundles – Save $600 – $2,499
Canon EOS R Mirrorless Camera Body – Save $500 – $1,799
Canon EOS M200 Mirrorless Camera with 15-45mm Lens – Save $50 – Only $499
Canon EOS M200 Content Creator Kit with Tripod Grip/Remote & Lens – Save $50 – Only $599
Canon EOS RP Mirrorless Full Frame with Free Accessory bundle – Save $399 – Only $999
Canon EOS M50 Mirrorless Camera with 15-45mm STM Lens & Accessory – Save $200 – Only $599
Canon EOS 6D Mark II Dslr Body with BG-E21 Battery Grip & Accessories – Save $400 – Only $1,199
Deals on Fujifilm Cameras
FUJIFILM X-T3 Mirrorless Camera Body – Save $200 – $1,299
FUJIFILM X-T30 Mirrorless Camera w/ XF 18-55mm Lens – Save $100 – $1,199
FUJIFILM X100F 24.3MP Camera – Save $200 – $1,099
FUJIFILM X-T20 Mirrorless Camera w/ XF 18-55mm – Save $100 – Only $899
FUJIFILM GFX 50R Medium format Mirrorless Camera – Save $500 – Only $3,999
Deals on Olympus Cameras
Olympus PEN E-PL8 Mirrorless camera with 14-42mm II R Lens – Save $150 – Only $349
Olympus OM-D E-M5 Mark III Mirrorless Camera with 14-150mm Lens – Save $300 – Only $1,499
Deals on Leica Cameras
Leica D-Lux (Typ 109) Camera – Save $200 – Only $895
Deals on Hasselblad Cameras
Hasselblad X1D II 50C Medium Format Mirrorless Camera – $5,750
Deals on Action / Sports Cameras
Akaso V50 Elite 4K60fps Action Camera – $139.99
---
The Best Lighting & Accessory Deals
---
Deals on Lighting
Deals on Accessories
Oben AC-1441 4 Section Aluminum Tripod with BA-111 Ball head – Only $99.95
Vello ShutterBoss II Timer Remote Switch – Only $39.95
Manfrotto BeFree Live Aluminum Tripod Kit – Save $49.39 – $169.99
Save $20-$25 on V-Flat World V-Flats by Signing up to their E-mail list here
Robus RCM-633 Carbon Fiber Monopod – Only $149.95
Oben GH-30 Gimbal Head – Only $249.95
RucPac Photographer's Winter Apparel Kits – $39-$90
Save $300 – $1350 on Zacuto Gratical Support Bundles – B&H
SmallHD Focus & on-camera 7″ Touchscreen LCD Monitor – Save 70$ – Only $629
Get 25% off exclusively at www.SpiderHolster.com from Nov 27th through Dec 2nd with code: BF2019
Cyberpower CP825AVRLCD Intelligent LCD UPS – Save 25% with B&H Coupon – Regular $99.95
Atomos Ninja Inferno 7″ 4k HDMI Recording Monitor – Save $300 – Only $499
DJI Ronin-S Handheld Gimbal – Save $120 – Only $629
---
The Best Tech & Storage Deals
---
---
The Best Deals on Printers
---
---
The Best Deals on Monitors
---
Dell UltraSharp 27 U2717D 27″ 16:9 InfinityEdge IPS Monitor – Save $420! – $299
Dell P2417H 23.8″ 16:9 IPS Monitor – $149
LG 27UL850-W 27″ Class IPS 4K Ultra HD Monitor with Built in speakers – Save $200 – Only $496.99
---
The Best Deals on Drones
---
Save up to 40% on everything from DJI from Nov 24 to Dec 4th, 2019
DJI Mavic Mini – $399
DJI Mavic 2 Pro Drone Kit with Memory card, case, and fly kit/pad – Save $399.98 – $1,949
---
The Best Deals on Computers and Laptops
---
HP14″ ZBook X2 G4 Multi-Touch 2-in-1 – Save $1,349 – Only $1,166.87!
Apple 27″ iMac with Retina 5K Display (Mid 2017) – Save $700 – $1,599
Apple 27″ iMac with Retina 5k Display (Mid 2019) – Save $250 – $2,149
Lenovo 15.6″ IdeaPad S340 Laptop (Onyx Black) – Save $400 – $549
Apple 21.5″ iMac with Retina 4K Display (Mid 2017) – Save $450 – $1,049
Apple 13.3″ MacBook Air with Retina Display (Mid 2019) – Save $100 – $1,199
Lenovo 14″ IdeaPad Flex Pro Multi-Touch – Save $830 – Now only $849!
Apple 16″ MacBook Pro with Touch Bar – Preorder Now – Starting at $2,399
Holiday Deals from B&H on Apple Products – Save up to $700 
---
The Best Deals on Bags & Backpacks
---
Think Tank Photo Spectral 10 camera Shoulder Bag – Save $70 – Only $49.75
Save up to 20% on Peak Design Bags & Accessories! Sale Ends Dec 2nd!
Save up to 50% until Dec 15th on Lowepro Backpacks & Rollers
Mindshift Moose Peterson MP-1 V2.0 Backpack – Save $190 – $159.95
Lowepro DroneGuard BP 400 Backpack – Save $51.05 – $98.90
Free Shipping & Road Warrior Kit with Roller Purchase at ThinkTank– Save $58.75
Save 40% on the Photocross 10 & 13 Slings by ThinkTank from Nov 27 – Dec 2
Manfrotto Street camera and Laptop Backpack – Save $60 – Only $89.88
---
The Best Deals On Rentals
---
Save 20% on rentals from Borrowlenses. Book for now or later, or both with this coupon code good on all rentals between now and November 27th, 2019 – Use Code TURKEY19
Save up to 50% on used cameras, lenses, and accessories at Borrowlenses with code BLACKFRIDAY19
Save 30% on orders from LensRentals with code LRBF19 and save 15% off all LensAuthority Orders with code LABF19. Offer valid on orders placed from Nov 25th to Dec 02, 2019. LR Orders must arrive by Feb 28th, 2020. One user per customer*
---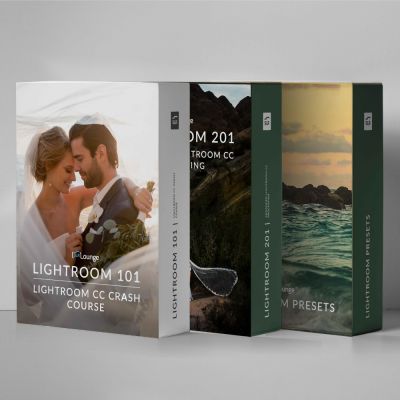 SLRLounge LIGHTROOM TUTORIALS
Browse our industry-leading Lightroom education. Whether you're just getting started and need to learn Lightroom basics or you're a seasoned pro looking for advanced Lightroom techniques, we have the right workshops for you.
SEE LIGHTROOM WORKSHOPS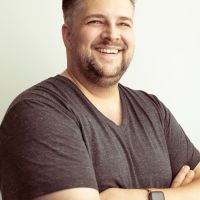 David J. Crewe
David J. Crewe is a full-time commercial photographer and Senior Editor with SLR Lounge. Based out of both Southern California & Las Vegas, Nevada. View his work and blog:
DavidJCrewe.com
Follow his Instagram:
@DavidJCrewe