San Francisco is the subject of countless books, Hollywood blockbusters, independent comedies, sitcoms, and classic songs. There's a certain aura and appeal of the city that draws in people of all walks of life. It's this diversity and the city's rich history and unique landscape that make this a gorgeous location for engagement pictures.
A huge financial district lies right next to one of the world's renown shopping areas. But less than 5 miles away are gorgeous beaches with views of beautiful bridges. Throughout the entire city is historic architecture, famous museums and other landmarks that each tell a unique American story.
[Related: the best engagement photography locations in Los Angeles and in Orange County]
The Best San Francisco Engagement Photography Locations
The following locations are not in any particular order. Also, the following locations may or may not require photo permits and we encourage you to do the proper research prior to shooting.
Baker Beach Engagement Photos
A gorgeous view of the golden gate bridge, soft sand, and interesting rocks make this the best beach to shoot if you're in San Francisco.
Photograph by Lin and Jirsa San Francisco
The Palace of Fine Arts
Tall, aged columns give you a historic European feel. The surrounding areas are also wonderful, shaded locations for your engagement and portrait photography.
Photograph by Lin and Jirsa San Francisco
The Palace of the Legion of Honor
Like the Palace of fine Arts, these columns at the Legion of Honor have that gorgeous, grandiose feel.
Photographs by Lin and Jirsa San Francisco
Golden Gate Park
It's impossible to depict the diversity of Golden Gate Park in one image. You have a plethora of scenes to choose from in this park, including the one below.
Copyright Ed Pingol Photography
Union Square
A world renown shopping district, the city lights of Union Square make a great backdrop for night shots.
Copyright Ed Pingol Photography
Ghiradelli Square
Grab some chocolate and wine and capture a unique sight of San Francisco.
Copyright Ed Pingol Photography
AT&T Park Engagement Photography
Go Giants! If your couple is into the San Francisco Giants, AT&T Park is a fun location to base your engagement session around.
Copyright Ed Pingol Photography
San Francisco City Hall
The City Hall of San Francisco is among the most beautiful government buildings in the world.  But make sure to pack an extra dose of patience, as it's packed with photographers and their clients.
Financial District of San Francisco
The financial district will give you a ton of opportunities for interesting urban shots. Climb down and capture moving BART trains or stay on the surface to get the hustle and bustle of the city.
copyright Ed Pingol Photography
Japanese Gardens inside Golden Gate Park
The Japanese Gardens inside of Golden Gate Park will give you a variety of beautiful scenes, from bamboo forests to unique bridges.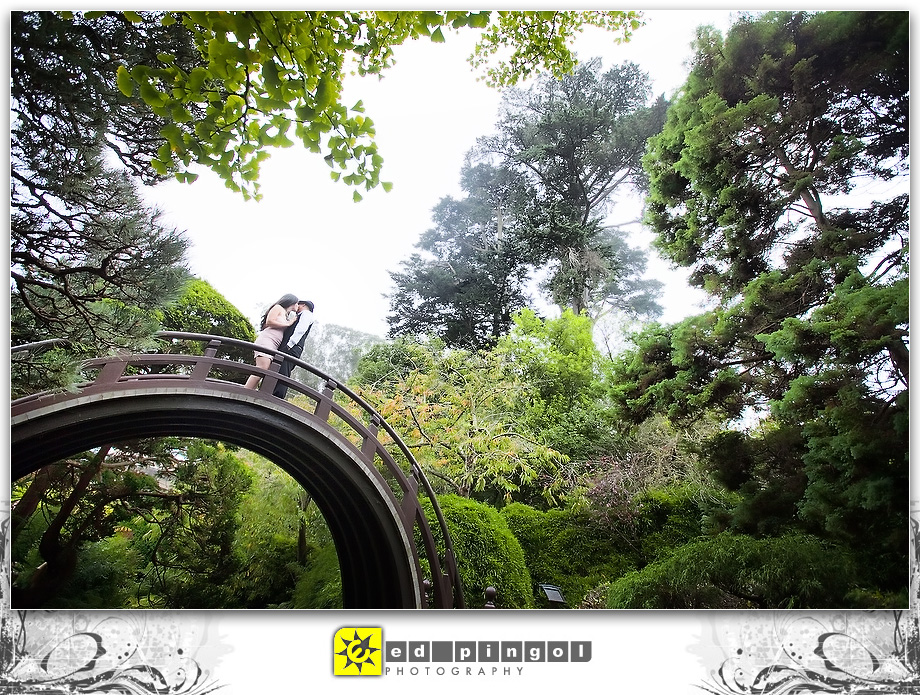 Copyright Ed Pingol Photography
Sutro Baths
A unique place where ruins meet the sea, Sutro Baths is a great way to end your engagement session with beautiful sunset photographers. Of course, you're in San Francisco, so there's always a chance for a foggy evening!
Thoughts?
What do you think?  What places did we miss?