In our current world, 91% of plastic isn't recycled. This overwhelming statistic begs the question of whether or not your efforts of throwing something plastic into a recycling bin should even be considered recyclable material.
Artist Benjamin Von Wong teamed up with Social Impact Strategist Laura Francois, Fabricator Joshua Goh, and almost 100 volunteers to create his newest project designed to kickstart research for disposable plastic cup usage in Singapore. He calls it – Plastikophobia:
You can watch the making of Benjamin's latest art exhibition here:
Recycling The 'Recycled' Cups
Von Wong's first mission was to locate close to 18,000 cups that would eventually bring the installation to life. He searched through markets and hawker centers in Singapore to collect the main source material for the project. It only took one and a half days to reach his goal which in it of itself shows you the obscene amount of plastic used in a small pocket of the world. While these cups will end up being incinerated, the goal of the project was to create something meaningful out of a mindless habit.
Once the cups were collected, Ben, along with a team of 30 volunteers set out to clean them out over the course of 2 days.
A 'Hic-cup' In the Plan
Three days before the deadline of the project, after the construction and foundation of the installation had already been built and the cups were placed according to their initial artistic vision, Benjamin felt as though the way the plastic was being glamorized was taking away from his original message. When working on projects with this scope of awareness and impact, the message can get lost in trying to create something attractive to the eye, yet still thought-provoking. And with a couple of tweaks, he managed to find a middle ground that focused the issue on plastic pollution by using glorified plastic.
What Benjamin and his team created invites us to look much closer than the issues on the surface. When looking at the installation from afar you are astounded by the grandeur but a couple of steps in and you'll realize the immense sense of responsibility we have as a society to reduce the use of plastic simply by observing the amount of plastic used for the project.
The installation is available for viewing over the course of the next 6 weeks at the Sustainable Singapore Gallery at the Marina Barrage. For more of Ben's work check out his Website and Instagram..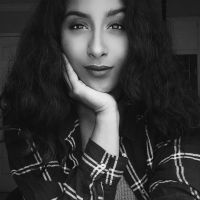 Shivani Reddy
Shivani wants to live in a world where laughter is the cure to pretty much everything. Since she can't claim "Serial Bingewatcher" as an occupation, she'll settle for wedding/portrait photographer at Lin and Jirsa & marketing coordinator here at SLR Lounge. For those rare moments when you won't find a camera in her hand, she will be dancing, eating a donut, or most likely watching Seinfeld. Follow her on Instagram:
@shivalry_inc