Why do you think instant film cameras have repopulated in our culture so much over the past few years? In a day and age where everyone wants a little touch-up, it seems a little odd that these rather basic cameras have re-captured such attention. So why? Sure some model agencies require instant shots of their models to see what they're really getting, but this is hardly on most people's minds, and sure Fuji has done a nice job re-packing old technology with a bit of modern bohemian flare, but the answer is probably much simpler, yet no less profound. It's because it's tangible. You see a moment worth remembering, you shoot it, and you can hold it, and share it.
One of the purest joys in photography has got to be, without a doubt, the feeling of getting a photo you've taken, printed. It's almost impossible to over exalt the value of printing, and those who grew up developing film know this, and even the digital generation is catching on. There's been a proliferation of printing services that have popped up in the last, oh I dunno, weekend, that it's hard to figure out where to go, or who to turn to for the best product, price, service, and overall experience. We are constantly fielding requests from you, our audience, to suggest companies that have these desirable traits, and in order to make life a little easier, and that more more enjoyable, here's one we think fits the bill.
Bella Art Prints, as a part of Marathon Press, uses beautiful paper to take your beautiful photos and show them to be the beautiful pieces they are. I've seen what they produce, and the product is nothing short of impressive, and at equally impressive prices.
So what is Bella offering? Currently prints are done on 4 types of paper: fine, watercolor, linen, and pearl. They are all acid free and the watercolor and linen are 100% recycled paper, and the fine and pearl are 30%. The acid-free paper, combined with archival liquid-based inks make for truly beautifully rich, and long lasting prints. In fact, you can expect the prints to last anywhere from 2 to 3 times as long as silver halide prints – so you're looking at about a half century in an open room with some sun, and a few centuries in storage (and no I cannot verify this for obvious reasons).
The printing is done on an Indigo 10000 which is vastly superior to the typical Epsons you'll likely find with most print fulfillment companies. Not only does the combination of paper, inks, and printer render an extremely wide color gamut, the printer allows for prints to be made at increased speed. This increase in efficiency trickles down to the client in the way of fast turnaround times, about a day or two, and a lower cost. Bella Art Prints offers 20 x 29 prints for $45, which is about half the price you would expect from most for a print that size, and that price includes shipping, unless you want next day air. They also offer mounting solutions should you prefer, and all for reasonable cost.
This kind of price point puts larger prints within reach for most people, and what you're getting, from the samples I've seen, is not a discounted product in any way. The images you see here really don't do the prints justice, but you don't have to take my word for it, since Bella Art Prints is offering you 10 free 8 x 10 prints so you can try all the papers, see the colors, try out different looks, and really see what they're about. To get your free prints all you'll need to do is visit www.bellaartprints.com and download their ROES app, and you'll be on your way in no time.
Thoughts
The prints are currently only offered in a matte finish, but it's striking just how rich an wide the colors are. Even on watercolor paper, a paper that drinks ink deeply, the colors are bold and rich. I should interject at this time that I have not gone through the process of printing my images with Bella as yet but have inspected their show work, and a full review of the actual fulfillment process and final product is in the works.
It's worth nothing that while Bella Art Prints is a relatively new service, it's an offering from a company that has been in the printing business for decades. Marathon was founded in 1980, and this family run business has been serving discerning photographers for 35 years with a wide variety of products and services. When speaking to those within the company, like Max Alewel, whose father founded the business, you get the feeling there's real pride taken, and that this is a labor of love. And keep in mind that photography is a people business, so these things matter.
I would encourage you all to check them out, get your free prints, and I'd wager you like what you see. And if you're here in attendance of WPPI, they've got a show special of a $100 credit for $50, and you'll get 15 artistic templates that you use in Photoshop, where you can add your studio name, text, or stylize it. I'll be going through with printing with them shortly, so if there are any questions you have, or anything you'd like to see, do let us know.
We'd like to extend a huge thanks to our partners at B&H for being our sponsor for WPPI 2015, where we'll be continuing to bring you the latest from the show floor and all the exciting new products and services from the forefront of photography.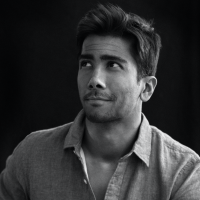 Kishore Sawh
A photographer and writer based in Miami, he can often be found at dog parks, and airports in London and Toronto. He is also a tremendous fan of flossing and the happiest guy around when the company's good.