Movie Posters
Looking at movie posters at the store is a humbling experience if you've done any amount of studio photography. There's always that cinematic lighting associated with powerful studio strobes, high production sets, famous actors, and well thought out compositions to lead you to a certain feeling when you see the cover.
Today, I have a behind the scenes video for you from a New York based advertising and sports photographer, Monte Isom. If you've never heard of him, you've probably seen his work: Visa ads covering the Olympics, NFL football, boxing print ads for HBO, Body Armor sports drink ads, stills for the 2012 Spider Man movie, Wicked Tuna TV advertisement for National Geographic, New Balance shoes, international soccer (football) just to name a few. What I'm writing about today however, is his movie poster for the movie Step Up All In. Here's the behind the scenes:
Set Up and Production
Camera angles do wonders to create drama & status, and yet there's a large amount of expertise the photographer relies on others to have as well. In the case of Summit Entertainment's movie Step Up All In, this expertise comes in the form of some extremely talented dancers who move so seamlessly that it's almost mesmerizing. In addition, there's an experienced crew during every stage; setting up the scene from lights, to booms, to water tanks, and in this case, spraying a garden hose! Just looking at the set says this is a lot to put together for any photographer, but Monte Isom does an excellent job of it and the life he brings to his productions is clearly seen in his work.
The Mood On Set
Seeing different behind the scenes footage for movies and photo shoots, one of the most important aspects is the mood of the shoot. Actors, models, photographers – a lot of us, if not most of us – had one thing in common starting out; we pursued our jobs because we enjoyed them and we have a dream, so when a movie set, or a photo seems serious, you can almost guarantee there's something else happening behind the scenes.
When working with other people, it's always best to keep the mood light-hearted and fun as to bring out genuine emotions in each person. A lot of that has to do with the photographer's personality and the group dynamic of the set, but there are a few other tricks that can make things run smoothly such as playing music to give a flow to the shoot, providing food and drink for your set (this is a big one), and sometimes it involves just being goofy and having fun.
The Final Production
After the shots on set are finished, there's a mess of editing and compositing for the final poster, and at that stage, putting it together is as much a skill as it is a magic. Magic in the aspect that the editors goal is to trick the eye into seeing what they want; hiding the transitions between different shots with well placed light, shadow, color, lens flare, scaling the images to size, or shooting with proper distance in camera, etc. This is also where the graphic design aspect comes in as well. The text inspires mood in the same way the photography does, and when designing a poster, it's very important to consider. Here are the final two shots:
Light & Color
The other thing to take note of with movie posters and commercial work, in general, is that there's excellent use of color, light, and shadow. Knowing color theory becomes more and more important as a photographer moves up, and knowing how to use light like an extension of yourself is, of course, a given. There's rarely a straight forward ten minute edit, or vintage fade. While those are nice things and are used incredibly well in all manner of photography, advertising is a different animal entirely, and requires a different skill set.
If you'd like to see more of Monte Isom's work, or maybe check out that Spider Man Poster I mentioned earlier, you can find his portfolio and more behind the scenes action here.
-Ryan
CREDITS: All photographs by Monte Isom are copyrighted and have been used with permission for SLR Lounge. Do not copy, modify or re-post this article or images without express permission from SLR Lounge and the artist.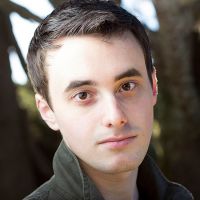 Ryan Filgas
Ryan Filgas is an aspiring portrait photographer and studio arts major at Humboldt State University. His life consists of talking with friends, taking classes, and planning his next outdoor adventure. You can find his work on his
website
,
Facebook
,
Google+
, or connect with him via
email
.