Image Credit: Aaron Burden
Browsing through your Instagram network you may find that several user bios read, "All images shot and edited on iPhone unless otherwise stated", a notion put forth to immediately mesmerize the viewer as they glance through mobile uploads seemingly disguised as DSLR captures.
London Portrait Photographer Sean Tucker's personal IG reads this statement, but for a very purposeful cause. In a short video making its rounds on the interweb, Tucker urges photographers to essentially 'stop and shoot the roses', claiming that technical understanding of gear/photography/lighting will only get one foot through the door.
Don't Sweat the technique
He stresses the idea of visual exercise, a routine far beyond technical knowledge. By developing yourself as a human being and striving to lead an interesting life that is constantly inspiring and invigorating, you are becoming photographically aware. And for those struggling with reams of technical knowledge flooding the internet, SLR Lounge Premium Membership is here to save the day.
Stop & Shoot the Roses
I've heard a particular phrase numerous times in my yoga classes, and to this day it proves to be the most demanding aspect: Be Present. Unbridled of a clunky DSLR, Sean faces the streets of London with wide eyes and deep imagination, capturing everything that inspires him exclusively with his iPhone for two main reasons:
Recognizing good light – Noticing and capturing light is the whole premise of photography and Tucker uses his IPhone to study what exactly the light is doing, what interesting shapes and shadows are being created, and what type of light quality is being reflected.
Composition – This idea dates back to early photography days, when street photographers caught the entire frame in focus instead of hiding behind a shallow depth of field. Using an phone camera to capture the entire field – top to bottom, foreground to background – Tucker claims that it helps him see that everything in the frame has a rightful place.
Take the long route on a walk home because you'll never know what small nest of inspiration you may stumble on. Visual exercises give you the permission to be careless, experimenting with enticing elements to lead you to your artistic vision.
I will leave you with a quote from the start of the video that stuck with me until the end:
"A camera is a tool for learning how to see without a camera" – Dorothea Lange
Catch more of Sean Tucker's work on his Website and Instagram.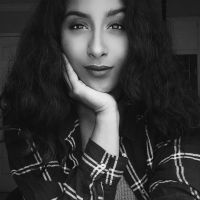 Shivani Reddy
Shivani wants to live in a world where laughter is the cure to pretty much everything. Since she can't claim "Serial Bingewatcher" as an occupation, she'll settle for wedding/portrait photographer at Lin and Jirsa & marketing coordinator here at SLR Lounge. For those rare moments when you won't find a camera in her hand, she will be dancing, eating a donut, or most likely watching Seinfeld. Follow her on Instagram:
@shivalry_inc