A certain movie came out in the summer of 1986 (May 16th to be exact), which not only made military aviation cool to the general public, but changed and defined the modern lexicon and interests forever. 'Top Gun' was less a summer blockbuster than it was a cultural seismic shift.
Fighter pilots and jets are 'cool' today and we take it for granted, but it wasn't always the case. It took the vision of Tony Scott (inspired by the photographic work of Bruce Weber), look of Tom Cruise, and the sheer presence of the cool-as-dry-ice F-14 Tomcat to put military aviation to the forefront of our eyes – and we've been insatiable ever since. If you've been hungry for some more, here you go.
Top Gun was based on the TOPGUN school at Miramar California, which ceased to be a navy post many years ago. Now it's a Marine base, home to 3rd Marine Aircraft Fighter/Attack Squadron VMFA-232 'Red Devils', and you've never seen F/A-18s like this before.
Gear List
Shot on a Panasonic GH4 using a Metabones T Smart Adapter, EF to MFT, for use with some pretty Canon glass, Vimeo user 1-300 has captured some of the romanceand beauty of military aviation in his short films. We have featured him before in a video where his subjects were F-15Js of the Hiko Kyodotai, the Japanese Air Self Defense Force's Aggressor adversary squadron that provides air combat training for the rest of the units. Here he gives the same gorgeous slow motion treatment to some hard working 'Legacy' Hornets, and the outcome is nothing if not inspiring.
Short videos like this really remind us of what our gear is capable of, and that's story telling and creating a narrative. As I've said before, the fighter environment is a visceral, savage, physically demanding one characterized by precision, aggression, and speed, but the GH4's slow motion footage of them takes that chaos and controls it – slows it down and shifts it from a rock ballad to something more of Mozart – even if to the soundtrack of a fighter community favorite, ACDC's 'Back In Black'.
Gotta love Hornets, but, Tomcats Forever, baby!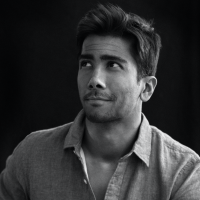 Kishore Sawh
A photographer and writer based in Miami, he can often be found at dog parks, and airports in London and Toronto. He is also a tremendous fan of flossing and the happiest guy around when the company's good.