In our last article, we detailed the initial costs that a photographer can expect to face when registering for and constructing a booth for a wedding/bridal show. We suggested that you budget $3,500 and estimated that we spent $3,250 on our very first, large wedding show.
Once you have the show booked and have put some plans together for a booth, you're going to want to consider a basic marketing strategy. We'll break this down pretty simply. First, you want people to stop by your booth. Next, you want to get contact information from people who check out your booth (preferably an e-mail address). And finally, you want people to leave your booth with information about your business (prices, website, social media links, etc.).
Attracting People to Your Booth
The best means of attracting individuals to your booth at a wedding show is by giving something away. Our giveaways range from a free engagement session (smaller shows) to a free basic wedding package (photography + an online gallery) at larger shows. We advertise this with signage and do a simple "draw out of a hat" a few weeks after the event. We use a simple poster design (a corrugated plastic yard sign from UPrinting) to promote our give-away and display them with some telescoping display easels (available via Amazon).
Getting Contact Information
Once people arrive at your booth, you'll want to secure their contact information. Despite the fact that most show organizers will provide you with the list of attendees (the "lead list"), it is to your benefit to get as much information as you can from people that stop in to check out your booth so that you can contact them within a day or two after the event (lists of attendees usually come at least a week later so it pays to be amongst the first to contact leads). We use note pads to collect names, e-mail addresses, the potential wedding date, potential venue location, and a "fun fact" ("What's rad about you?"), again from UPrinting. There are a couple key things to keep in mind when collecting people's information: make certain what they write is legible (give a quick check before they head off), write a few notes on the back of their sheet if you have the time (something to remind you of the conversation you had with them), and bring plenty of pens (people will accidentally walk off with them).
Giving Your Business Information
We like to keep things as simple as possible, so we tend to use a minimalistic brochure when handing out our information: a half-fold brochure (card stock, matte, and full color) – UPrinting yet again. This provides potential clients with our business information, (specifically a brief bio), a description of our package prices, and a "gift card." When designing a brochure, we make certain it uses images from our booth, and we include a gift card ($199 off if they managed to keep our brochure from the show, for example) to encourage people to not throw away our brochure and hopefully respond when we e-mail them.
Final Cost: Signage, Note Pads, & Brochures
We recommend budgeting $500 for signs, display easels, note pads, and brochures. If you are doing a larger show, you can plan on making between 300 and 400 contacts so being prepared for 500 is a good idea.
Signs and Easels: We like to bring two Yard Signs, so attendees are attracted to our booth from both sides of the aisle (custom size of 24″ x 36″ at $30/each) and two Telescoping Easels (about $25/each).
Note Pads: UPrinting requires a minimum order of 10, and we made a custom sized 4″ x 5″ Note Pad with 100 sheets, which will give you plenty; approximate cost is $40.
Brochure: Via UPrinting again, we like the 8.5″ x 11″ Half Fold Brochure, which on 10 pt. card stock matte will run about $300 for 500.
In our next article (part 3 of our series), we'll discuss what you should do if you manage to get a lead who is stoked about your work and hangs out for more than 5 minutes in your booth as well as our tips for the best, most effective way to follow up with leads. Questions? Comments? Hit us up below or on Twitter @sunshinexreign. 
If you missed the first article, be sure to check it out here: The Costs of a Bridal Show for Photographers {Wedding Show 101-Part 1}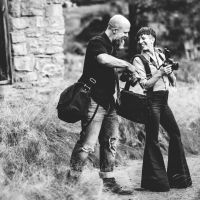 Amii & Andy Kauth
Amii & Andy are a wife and husband team of rad portrait and wedding photographers (Sunshine & Reign Photography) who absolutely love life and are generally just stoked! Yeah! When they aren't photographing or writing and teaching about photography, you'll find them off on a seriously legit adventure with their little ones, lifting weights in their garage, training jiu-jitsu, refining their archery skills, or surfing every chance they get. And on the rare chance they escape off on a "date night"? Yep! They'll find a wedding to crash (true fact). Website:
Sunshine & Reign Photography
Instagram:
@sunshineandreign