Yesterday was a big day for Apple. While the first day of WWDC 2017 has come and gone, big things have come from the House that Jobs built. Apple showed a bunch of new enhancements to their latest OS, a long-awaited smart speaker akin to Amazon's Echo, but what really had Apple-entrenched creatives champing at the bit were the latest computers that the tech giant is about the push out, enhancing nearly every single machine the company produces.
iMac
First to be announced was the refresh of the beloved iMac with a graphics boost, faster Kaby Lake processor, and brighter displays. Port-wise all three models have four USB 3.0 Ports, two Thunderbolt 3 (USB-C) ports, the latest 802.11ac Wi-Fi and Bluetooth 4.2. On the lower end, there's the 21.5-inch non-4K
iMac starts at $1099
2.3 GHz dual-core i5 processor
8GB of DDR4 RAM (upgradable to 16GB)
1TB SATA Drive
Intel Iris Plus Graphics 640
The 21.5-inch 4K model, starting at $1299
3.0 GHz quad-core i5 (upgradable to 3.6GHz i7)
8 GB DDR4 (upgradable to 32GB)
1TB SATA Drive or 1TB Fusion Drive
AMD Radeon Pro 555 with 2GB of VRAM or Radeon Pro 560 with 4GB of VRAM
The 27-inch 5k model can be configured with a max of 64 GB DDR4 RAM, 4.2 GHz quad-core i7, 2TB SSD, Radeon Pro 580 with 8GB VRAM for a whopping $5300. The new displays inside Apple's 4K 21.5-inch and 5K 27-inch iMacs can produce an image up to 43% brighter than the previous gen with 500 nits of luminance. they support a P3 color gambit or up to 1 billion colors.
iMac Pro
The real show stopper was the iMac Pro, which is what Apple is calling "the most powerful Mac ever." It was nearly a decade ago Steve Jobs was on stage with the now infamous manila envelope holding the future of computers; recently though, Apple's selections have been lacking as of late. The iMac Pro is Apple's response to the community trying to reassure the pros that it does take its Mac line seriously.
Inside the new space-gray-clad behemoth is a redesigned cooling system to accommodate the (up to) 18-core Xeon processor and all new Radeon Pro Vega GPU, while having the same 5K display as the highest-end iMac. The iMac Pro can be configured with up to 4TB of SSD, 128GB of ECC (Error-correcting code) memory, and up to four Thunderbolt 3 ports that "can connect to up to two high-performance RAID arrays and two 5K displays at the same time."
MacBook Pro Refresh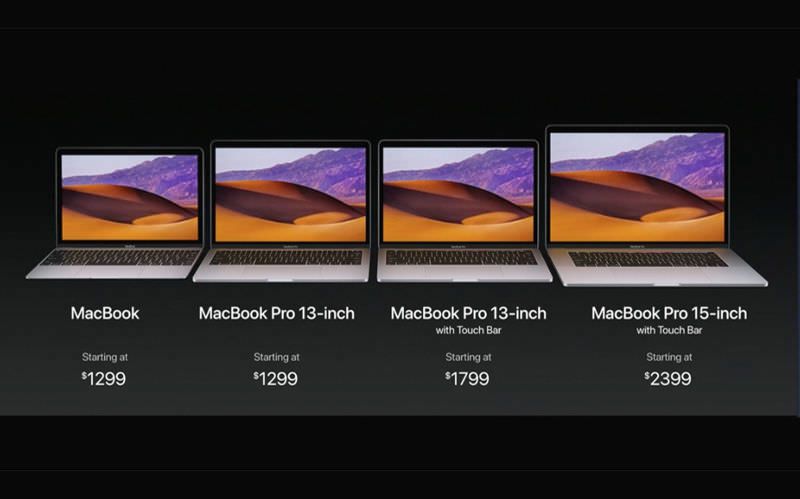 It's been only seven months since Apple unveiled its first MacBook Pro with Touch Bar, and we're already looking at a refresh. The big changes this time come with the inclusion of Kaby Lake and slightly better graphics, a la AMD Radeon Pro 500 series graphics cards. Some photographers would be bemused, however, to find out the amount of RAM, battery life, screen and port selections remain the same.
All computers but the iMac Pro are available from now. The iMac Pro is geared to release later this year at a starting price of $5000.
Justin Heyes
Justin Heyes wants to live in a world where we have near misses and absolute hits; great love and small disasters. Starting his career as a gaffer, he has done work for QVC and The Rachel Ray Show, but quickly fell in love with photography. When he's not building arcade machines, you can find him at local flea markets or attending car shows. Explore his photographic endeavors
here
. Website:
Justin Heyes
Instagram:
@jheyesphoto