Love them or hate them, Apple has changed not only the way we use devices but also how companies present and announce them as well. Apple's Keynote presentations are among the highest anticipated technological events during the year. Fans, loyalists, and bloggers huddle around Apple emblazoned devices to live stream the event or follow along on the countless live blogs to see what the technology giant has been developing.
Apple's World Wide Developer Conference (WWDC) isn't the biggest show of the year, but it is still a rock concert in its own right. The event kicks off with a big keynote, which Apple execs like CEO Time Cook or Craig Federighi, Senior Vice President of Software Engineering typically introduce the latest from developments for Apple's family of operating systems – macOS, iOS, watchOS, etc. At this year's WWDC Apple let developers and devotees in on what they have been working on; namely iOS 12 and macOS 10.14 Mojave.
iOS 12
WWDC and iOS have a symbiotic relationship. At every WWDC is where Apple reveals the latest iOS. It is where Siri was introduced to the world, iMessage in all of its blue bubbled glory, and even the App Store itself. This year is no exception.
Though not as groundbreaking as previous developments, iOS 12 has developments that will bring the platform to a new level. Among the weirdly exuberant time spent on animated emojis, there are a few features that would actually be useful for photographers.
Photos on iOS 12 will now offer search suggestions based upon a database of locations, time, and even faces. There is also a "For You" tab that is, in essence, a best of encompassing recent events and suggestions for content you should edit and share. The latest iOS will allow users to "import and manage RAW photos on your iPhone and iPad and edit on your iPad Pro."
Siri Suggestions is another development from Apple. The new feature allows the digital assistant to learn your routines and make suggestions that are location-aware and will offer suggestions like enabling Do Not Disturb at specific times such client meetings or movie showings.
iOS 12 will be able to run on devices that have the 64-bit chipset. This means devices as old as the iPhone 5s, iPad Air and iPad mini 2 will be able to run it. Users should expect iOS to drop in September with the introduction of the newest iPhones.
macOS 10.14 Mojave
With any new moniker of OSX will bring new features of course, but as with iOS 12 they will be incremental updates instead of dramatic changes. The biggest departure from previous releases is the addition of 'Dark Mode' which allows the user to darken both the dock and top menu bars. This should make photos pop a little more while reducing eye strain.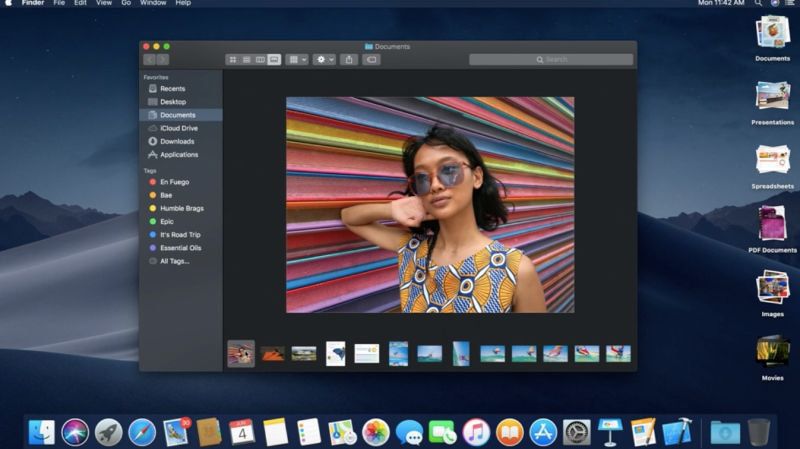 Finder gets new features in the form of stacks, quick view markups, and a new gallery view. Dynamic Stacks will automatically sort similar files into 'piles' that can be arranged by type, creation date, and other tags. One click is needed to expand the stack and a double-click will open the folder. Unlike other system folders, if a file is dropped on the desktop it will be auto-sorted into the Dynamic Stacks based upon previous variables.

A new galley view is making its way into the macOS Finder. Much like Cover Flow, only more useful, Galley View displays a large preview with thumbnails across the bottom. With Galley View comes new sidebar feature that will display full metadata for image or video, including shutter speed, aperture, and ISO.
MacOS Mojave is limited to 2012 or newer machines, with some older Mac Pro models making the cut.
Supported Devices  
MacBook (Early 2015 or newer)
MacBook Air (Mid 2012 or newer)
MacBook Pro (Mid 2012 or newer)
Mac mini (Late 2012 or newer)
iMac (Late 2012 or newer)
iMac Pro (2017)
Mac Pro (Late 2013, plus mid 2010 and mid 2012 models with recommended Metal-capable GPU)
Developers can download macOS Mojave starting today, and the public beta should be expected later this summer.
Justin Heyes
Justin Heyes wants to live in a world where we have near misses and absolute hits; great love and small disasters. Starting his career as a gaffer, he has done work for QVC and The Rachel Ray Show, but quickly fell in love with photography. When he's not building arcade machines, you can find him at local flea markets or attending car shows. Explore his photographic endeavors
here
. Website:
Justin Heyes
Instagram:
@jheyesphoto