There are people whose names become brands. The name itself becomes so synonymous with a type of work, a characteristic, a style, a brand, or any number of other things that there is really no separating the two. In our little snow-globe of a world that is photography, we think of Leibovitz when we think of celebrities; Katsu for aviation; Uncle Terry for controversy; and if you're like me, Lik for overrated. Undeniably, at least Stateside, when we think of swooping landscapes in black & white, it is Ansel whose name comes to mind.
Ansel Adams could have a genre named after him, and few would protest. His work continues to be an inspiration and motivation for generations of new photographers. So it was little surprise then, that when the US Department of the Interior decided late last year to announce they were looking to fill the position he once held with them in which capacity he took many of the photos for which he is known, we all paused to consider.
Actually, it was more than that because it was all at once exciting that there was, as is atypical these days, a full-time salaried photography position open, and daunting because, my God, what shoes we'd be aiming to fill. For the average professional photographer, you'd almost have to be twice as good to be likened as his equal. This, however, clearly wasn't enough to stand in the way of herds who inundated The Department with applications.
This is surprising for another reason because you couldn't just be a great photographer with a massive audience to get the job, you had to be chosen from a group who had the requisite skills and experience with large format photography – the medium to be used within the position. And large format photography just isn't something many do, and not for a lack of merit. Large format photography is physically demanding, requiring dimensionally substantial equipment that you'd have to be hiking around with. And, of course, there's no chimping, and you'd have to get used to seeing the world upside down. It's an art form of its own.
Well, the deadline for applying for that position is now closed, and the 'winner', and I use that term specifically, should be announced this spring. NPR's All Things Considered interviewed Rich O'Connor from The Park Service about the position as the responses. It's a short listen coming in around 4 minutes, but he speaks a bit about the overwhelming response, which he so cordially and professionally describes as, "heartwarming." He also goes into a bit more about what's entailed, why it's such a significant position, and why the decision was to shoot large format versus something digital with a minute resolution like the Phase One XF 100MP.
You can see more about the position here in a previous post.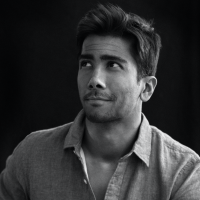 Kishore Sawh
A photographer and writer based in Miami, he can often be found at dog parks, and airports in London and Toronto. He is also a tremendous fan of flossing and the happiest guy around when the company's good.