Newly announced is the Voigtlander 110mm f2.5 Marco lens for Sony Full frame E-Mount cameras. Priced at $1,099 it will go head to head with the 90mm f2.8 OSS G lens from Sony ($1098).
The company offers lenses that are best suited for a more deliberate and measured shooting experience. So it makes sense that they'd offer a macro lens at this focal length because the genre demands both patience and precision. If your interest has been piqued, let's look at bit closer at what the lens offers.
Products Highlights
– f/2.5 – f/22
– 14 Elements in 12 Groups
– Diaphragm Blades:10
– Minimum Focus Distance: 13.78″ (35cm)
– Maximum Reproduction Ratio: 1:1
– Filter Thread: 58mm
– Dimensions: 3.09 x 3.93″ / 7.84 x 9.97cm
– Weight: 1.70 lb (771 g)
Voigtlander's Sony E Mount Lineup
Voigtlander Heliar-Hyper Wide 10mm f/5.6 Aspherical Lens – $1,099
Voigtlander Ultra Wide-Heliar 12mm f/5.6 Aspherical III Lens – $999
Voigtlander Super Wide-Heliar 15mm f/4.5 Aspherical III Lens – $799
Voigtlander Nokton 35mm f1.4 – $799
Voigtlander Nokton 40mm f1.2 – $1,099
Voigtlander MACRO APO-LANTHAR 65mm f/2 Aspherical Lens – $999
With the 110mm focal length, the lens will provide a nicely compressed image and out of focus area which, if rendered nicely, will give you a few options to consider while planning your shots. It has to potential to serve you well for food, product, portraits, and even video.
Today, shooting with manual lenses can hardly be considered a limiting or antiquated option. Every modern benefit lost in adapting legacy glass has been restored through modern design. Voigtlander continues this trend by providing electronic connections that communicate EXIF data and has optimized the lens to utilize Sony's sensor stabilization feature.
The future continues to be bright for Sony's E-Mount and lens makers looking for new opportunities to win customers.
Order your Voigtlander 110mm f2.5 Macro lens for $1,099 here.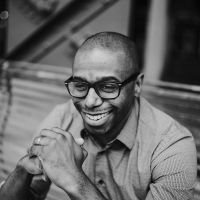 Wendell Weithers
Wendell is based in Atlanta where he shoots events, portraits, and food photography. He also supports his wife Andrea as she runs their cake design business, Sweet Details. Instagram:
Wendellwphoto