"I wish I was half as good as I thought I was in the beginning."
These are words that usually spawn a quick laugh amongst photographers who have transitioned from enthusiasts to working photographers. It is often reminisced as that pivotal moment where we realized our work wasn't in fact up to par. It is the time where many become insatiable and want to learn as much as possible to improve their craft. Once the body of work reaches a consistent level of image quality, it is a natural progression to want to make the leap into becoming a full time photographer.
It is imperative to have a strong portfolio as that is usually the first thing a potential client looks at when deciding whether or not to hire one. Many artists are emotionally attached to their work and may not be able to cultivate their own portfolio without a secondary discerning eye. However,  very common piece of advice in these situations is to seek out a portfolio review from an expert. Having never done this before, I did just that by registering for The Official Portfolio Review by Palm Springs Photo Festival at PhotoPlus Expo.
Gear:Canon 5D Mark III, Canon 50mm 1.2L
Tech Specs: ISO 640, f/1.8, 1/125 of a second.
Who is the portfolio review for?
There are two different portfolio review options; one is strictly for emerging and professional photographers that have to have their portfolio vetted prior to being able to purchase credits and choose who they want to review their portfolio. The other is an open review for those that are just breaking into the industry or simply need guidance and advice. The open review panel is the exact same as the panel for the emerging and professional photographers. The difference is the portfolio doesn't need to be vetted and the reviewers are chosen for you. The panel includes photo editors, art buyers, gallery owners and many other experts in the industry.
What portfolio should be submitted for review?
We are only granted one shot to make a great first impression. The portfolio submitted should be a direct reflection of the artist's voice and consist of a strong, tightly edited body of work. I researched my reviewers and made an honest attempt to create individual portfolios catered to the reviewer's expertise. One portfolio consisted of a very small sampling only showcasing the best work that fit the style of their publication. The second was a broader range that included multiple images from the same shoot to show the editorial possibilities. The last was the least edited and consisted of the most images.
Also, be prepared to showcase your website as well as any and all social media accounts. This gives the reviewer the perspective of what a potential client would see and allows them to provide even better feedback. Social media gives the client a glimpse into what type of person they would be working with  and now, more than ever, a strong social media presence is becoming crucial.
Gear:Canon 5D Mark III,Canon 50mm 1.2L, Profoto D1 500
Tech Specs: ISO 100, f/16, 1/160 of a second.
What To Expect
One of the benefits touted about the PPE portfolio review is that some people have walked away with potential job offerings and callbacks afterward. This did not happen with anyone during any of the review times I had scheduled, however, that does not mean that it didn't happen. Regardless, that possibility is very exciting as well as very nerve racking. The reviews are only 20 minutes long, which adds extra pressure. Identifying a clear and concise goal beforehand helps take the most advantage of that time by gearing the overall review and feedback received toward those goals.
Overall, there was definitely a lot of critique received, and some of it was very mixed. Although this was fashion related, it could be applied to all genres. There was a general consensus that my portfolio needed a massive overhaul with a better creative team and better models. This will always be the case in an ongoing effort to create better work and therefore a stronger book. One reviewer stated to remove multiple images of the same set to avoid looking like current work isn't being commissioned while another suggested to add more images from the same set for an entirely different reason. This reinforced to research and create promotional material gained toward individual clients
Gear:Canon 5D Mark III, Canon 85mm 1.2L II, Profoto D1 500
Tech Specs: ISO 400, f/7.1, 1/160 of a second.
Specificity is the name of the game, and it was suggested to further differentiate between the different subcategories of fashion and beauty. I received a lot of general guidance about attempting to assist up and coming photographers as much as possible, contact studios and try to get an "in" with the equipment room and take an internship if it is ever available.
The most informative reviewer specialized in working with artists by building unique portfolios to attract the specific clients they were seeking. The reviewer went as far as to reorganize the current work in front of him to make a stronger visual impact. The most critical feedback received was from a photo editor politely recommending to not contact any magazines for a while. They also inquired if fashion is really what I wanted to do, indicating just how high the bar is set in New York City.
Gear: Canon 5D Mark III, Canon 85mm 1.2L II, Profoto Compact 600, Profoto Silver Soft Light
Tech Specs: ISO 100, f/8, 1/160 of a second.
The Takeaway
The Official Portfolio Review provides a service to photographers by giving them the opportunity to meet and potentially network with multiple industry professionals that they may not have the chance to meet with otherwise. Researching the reviewer and having a specific goal in mind can help take the most advantage of that 20 minute critique. One reviewer's take isn't going to be the same as another. While it is possible to book as many reviews as there are scheduled time slots, it isn't necessary. One review is perfectly adequate, although it is nice to be able to network. In regard to the review, the best advice I can give in preparation to this is learn to separate yourself from what you do. Some critiques and reviews can be brutal, but the separation usually allows us to see the silver lining of advice sooner than later and helps prevent a lot of hurt feelings. It is the desire to learn from it and apply it in order to keep growing and moving forward in this industry.
Stay tuned for more of PPE 2016 coverage!
A big thank you to our sponsors, B&H Photo, for making this trip to Photo Plus Expo 2016 possible!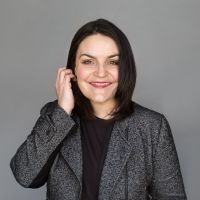 Brittany Smith
Brittany is a fashion and beauty photographer who works between NYC, Montana and LA. She photographs the way she has always wanted to feel and believes in the power of raw simplicity. When not behind a camera she can usually be found at a local coffeeshop, teaching fitness classes at the YMCA, or baking something fabulous in the kitchen. Instagram: @brittanysmithphoto