Production value is often what separates the extraordinary photoshoots from a sea of good work and makes culling a breeze in the eyes of an editor. A producer is a luxury that is often hired for the major high-end editorials and ad campaigns and for good reason; producing is no simple feat.
In the beginning of a fashion photography career you will most likely get a taste of what it is that a producer actually brings to the table until a budget allows otherwise. Manning the ship from start to finish and working out the little waves in between may extend into paid work with clients as well as brands. There are so many minute details and intricacies attached that it can be overwhelming attempting to decipher where to even begin.

Fashion Photographer Alexi Lubomirski is here to help with another fantastic video that is packed full with information. If you are wondering why that name is familiar it is probably because he's the guy who took the engagement photos of the Royal couple. He's also shooting covers for Harper's Bazaar and doing work with A-list celebrities and major fashion publications on the regular.
Production is essentially a really tight to do list that is checked and double checked to ensure that every last detail is taken care of. Staying within budget on a shoot is of the utmost importance as anything that is over budget comes out of your own pocket. Keeping track of all associated expenses and invoices helps keep costs in check and Alexi provides several tips about how to soften the blow of being over budget. He also suggests treating personal editorial productions as an investment that will most likely pay off in the future by attracting paying clients.

Alexi goes into great detail explaining the process of hiring a creative team as well and keeping them happy on set, choosing to shoot on location or in the studio and how to troubleshoot. This following video is just under nine minutes and be prepared to watch it several times through because there is a lot of information shared in a short amount of time.
Also subscribe to Alexi's YouTube channel here and be sure to check out his other content. He has an uncanny way of being very personable and unpretentious that makes it enjoyable to watch. There are interviews with industry leaders that include priceless insider information as well as a peak inside his editorials.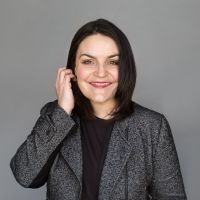 Brittany Smith
Brittany is a fashion and beauty photographer who works between NYC, Montana and LA. She photographs the way she has always wanted to feel and believes in the power of raw simplicity. When not behind a camera she can usually be found at a local coffeeshop, teaching fitness classes at the YMCA, or baking something fabulous in the kitchen. Instagram: @brittanysmithphoto