What's on your travel bucket list? A little jaunt to Paris to take some photographs of the Eiffel Tower, some baguettes and a visit to the Louvre? Perhaps a swim at the Great Barrier Reef with some turtles and sharks? Or maybe poke at the pyramids in Egypt to see if they actually are the real thing or merely inflatables? All of the above?
Apparently, I've been bitten by the travel bug as I keep seeing and writing about gorgeous photographs from some of the coolest and most famous places on Earth (see yesterday's gorgeous cityscapes article here). You may have already checked a few of these exotic places off your bucket list, but most likely not from this perspective.
Photographing from somewhere up high, one company and its team of nine photo enthusiasts and three tech specialists set off to check off their bucket list the 100 Best Places in the World. The team of 12 that create AirPano began their quest in 2006. Almost 10 years later, the team has over 230 locations under their belt and on their website.
Initially using spherical panoramas, they then began working from planes and helicopters and now have moved onto mostly drones to help capture the unique perspective of some of the world's most recognizable landmarks. These "air panoramas," are captured with their brand of choice, Nikon cameras (after switching from Canon a few years ago – see their reasoning here). Their website houses thousands of 360° aerial panoramas of the world, the largest resource of its kind.
Unlike viewing a traditional photograph limited by its frame, or watching a film that follows its director's idea, a spherical panorama gives you a freedom of being on location, where you can turn around 360° and have a closer look at every detail.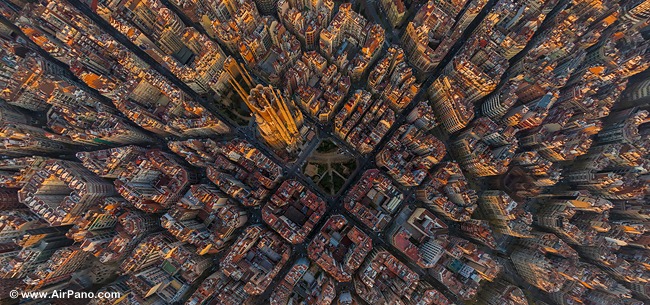 Whether they are dropping you straight into the ocean to swim with manta rays in the Maldives or smack dab in the middle of the Strip in Sin City, AirPano's virtual tours will take you to some of the most visited places on the planet, but better. Lead by project coordinator, Sergey Semenov, the team has their sights set on Portugal, Indonesia, Japan and the United Kingdom next.
One can spend hours looking at the breathtaking images in their photogallery or in their 3D panoramas. A few you must check out that are not pictured here: Arc de Triomphe in Paris, Dubai, and the Taj Mahal. I know this from experience. Here are a few of my favorites:
Check out the AirPano website to visit some of your favorite places and add some names to that bucket list all without needing your passport.
What is next on your travel bucket list? Mine is Rome; comment below with yours.
CREDITS : Photographs by AirPano have been used with permission for SLR Lounge. Do not copy, modify or re-post this article or images without express permission from SLR Lounge and the artist.
[Via Daily Mail]
Hanssie
Hanssie is a Southern California-based writer and sometimes portrait and wedding photographer. In her free time, she homeschools, works out, rescues dogs and works in marketing for SLR Lounge. She also blogs about her adventures and about fitness when she's not sick of writing so much. Check out her work and her blog at
www.hanssie.com
. Follow her on
Instagram