I love when big entities – people included, ones with means or power, do big things; It could be countries sanctioning the funding of an incredible building like the Guggenheim in Bilbao (which i have no idea how the city could afford); or a company creating the most powerful car just to prove something, or one man really pushing forth with a project to create the ultimate passenger aircraft like Tony Benn did for Concorde. In a world of tightening budgets and one recovering from financial depression, these sorts of projects have been few and far between.
The accountants won't let anything cool happen unless it can be measured in dollars instead of sense. So it's amazing and lovely to see a company step up to do something wonderful, for the sake of wonderment, like what Airbus has recently done with 5 of their newest aircraft.
In a video and photo shoot to mark the certification of the new A350 XWB, Airbus rounded up 5 of the new jets that cost between 260 and 340 million a piece, a host of skilled and storied flight crew, 2 chase aircraft, bags of gas, and bags of money, and put the jets through numerous famous formations and maneuvers not often seen from an airliner.
The sheer size of the aircraft make movements slower and more languid than you'd see with demonstration teams like the Thunderbirds or the Patrouille Suisse. If watching the F-16s of the Thunderbirds pull tight maneuvers under high g loads is like rock 'n roll, watching the Airbuses is like mozart, and the cinematography really captures that with broad views, and massive sense of depth and scale.
The stakes, however, are probably even higher with the A350s given their price. Each aircraft in the video costs more than all six of the Thunderbird show birds, even if it does cost about $2 million US to train an American fighter pilot. So with these numbers involved, the planning beforehand needs to very in depth and specific.  Take a look at the briefing room and notice the focus and amount of people required for a shoot this size – also note the Sony RX100 on the table.
Watching the preparation portion of the video will be insightful to many, and if you take away one thing from this, it should be the cliche that preparation in the key to a successful shoot.
What would you do with access to a budget like this for a shoot?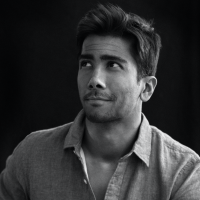 Kishore Sawh
A photographer and writer based in Miami, he can often be found at dog parks, and airports in London and Toronto. He is also a tremendous fan of flossing and the happiest guy around when the company's good.