Photo editing applications come and go, and really very few have any manner of staying power. It always seems we end up with Adobe Photoshop, and Adobe Lightroom. Now, this isn't necessarily a bad thing, because Adobe created the genre and have been tinkering away at it for decades, with every new version a bit more refined, and we love Photoshop and Lightroom.
Traditionally, these programs haven't been cheap, and Photoshop, in particular, has been quite pricey, which was a key factor in leading to the proliferation of Photoshop piracy, which in turn seems to have led Adobe to the Creative Cloud, which again, we highly regard. But it's not everyone's cup of tea. Not everyone wants to pay 'premiums' every month or year for use of the software. The problem is there hasn't really been much in the way of options. A company called Serif, is aiming to change that, and has just launched what appears to be the first real alternative to Photoshop. It's called Affinity Photo.
Serif made a bit of a name for themselves last year with the release of Affinity Designer, which was a more dollar friendly (read: low cost) alternative to Adobe Illustrator. I have little experience with Illustrator and none with Affinity Designer, but from all accounts it's very good, and even more intuitive than its Adobe brethren.  With Affinity Photo, Serif seems to not only aim to match Photoshop, but to re-think it, and best it, with a focus on speed, efficiency, and price. Those are giant shoes to fill. You can see for yourself how well it fills them right now, since the Beta version was released today, for free.
One of the touted benefits to Affinity Photo is speed. There's been a lot of talk surrounding this one ability, probably because Adobe products, Lightroom especially, are known to be utter resource hogs, so any speed improvement is welcomed with open arms. It's been argued that Photoshop's incarnations are all based off the initial, now over twenty year-old architecture, and that computing processes and powers are so different today, that what's needed is a complete architecture overhaul. This is what Affinity Photo claims to do.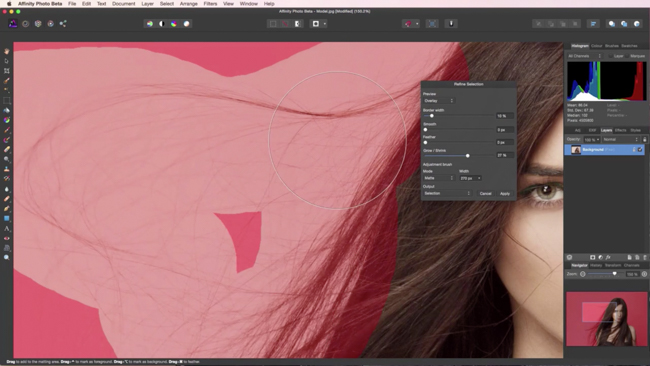 I haven't had much time to spend with it, but I can say right now that I threw some very large files at it which opened in a blink, and the start-up shut-down process is equally quick, as were the edits made and so forth. So it seems so far that in terms of speed, it is making good on its word. I threw RAW files from 5 different cameras at it, and it opened them just fine, though either with a very flat picture (which is not bad actually), or in the case of the D750 RAW files, they opened with a strange red hue. I'm assuming this is just a Beta issue to be resolved quickly, though even the JPEGs seemed flat – perhaps it was a setting I'm unaware of.
This also brings up the next big hurdle for Affinity Photo to leap, and that is users will have to learn a completely new software, when they've been spending years investing time and money in Photoshop education. They seem to be trying to combat this by simplicity, and while the program still uses the main frame of Photoshop, layers and all that, for an old Photoshop user like myself, it will take time to get used to. To help with that, there is a forum with guidelines which you can find here.
But the program seems bountiful in features, and features you'll want to know how to use. Watch the video at the bottom of the post to get a taste of what you can do with it. You'll see a lot of pro features you'll recognize from Photoshop, and ones you don't. Affinity Photo is geared to the professional after all, and includes the ability to do things like frequency separation, use blending modes, liquifying, and it uses CMYK 16-bit channel editing, RAW processing, LAB color, and Photoshop PSD and 64-bit plug-in ability. Oh, one major caveat – It's only for MAC, for now.
I think it's certainly worth downloading the Beta to see how you like or dislike the interface and general usability. I will, in time, put it through its paces and review it for those thinking of paying the meager $49.99 to purchase when the final product drops. Get the free Beta version here now.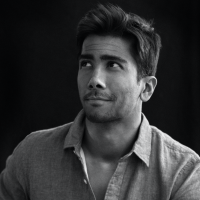 Kishore Sawh
A photographer and writer based in Miami, he can often be found at dog parks, and airports in London and Toronto. He is also a tremendous fan of flossing and the happiest guy around when the company's good.