The biggest tech-related news this week has to be iOS 11 finally dropping into the public domain. This is also going to have far reaching effects on the photography world and Affinity Photo has got the jump on it with a brand new app overhaul that sees the app optimized already for iOS 11.
One of the problems with new iOS releases is that they can take some significant time for app developers to adapt, which means those apps often stutter, don't behave as normal, or at least they don't take advantage of the new iOS capabilities you've been waiting for. Affinity seems to have been in step with Apple on this one, which is great for us.
It was only a month ago the app received a major update and here we are a month on with yet another significant update which brings the iPad app that much closer to the full-fledged desktop version. It's this kind of service dedication we're looking for from software developers (cough, Adobe), and it's this kind of App that makes you start to get an idea that the world moving to mobile for photo management is happening. Anyway, here's what's new:
• New iOS 11 Drag and Drop support.
• New iOS 11 Files support.
• New Stack now supports RAW files.
• New HDR, Focus Merge, Stack, Panorama now support dropping of source images in iOS11.
• iOS 11 will now generate thumbnails and previews for Affinity documents.
• Popups can now be dismissed by interacting with the canvas (painting, for example). A single tap still dismisses.
• New "Rotate" menu items when developing RAW.
• New "Lock Children" switch in the Transform Studio (so you can move a layer but not the mask, etc.)
• Guides are now visible when using the crop tool.
• HSL adjustment now contributes per-channel adjustments to exported LUT.
• PDF import improvements.
• Localisation improvements.
• Numerous other small fixes and improvements.
For some there will be specifics in here which may suit your style of work best, like the panoramas and stacking, but unequivocally the biggest shift is the drag and drop integration. In a way it seems that Affinity Photo for iPad was really limited to the operating system's capability, and drag and drop just makes everything different.
Using the native Documents app within iOS 11, or even Readdle's Documents App (get it if you don't have it), or dragging from email makes this the first time photographers can easily import and export into a powerful photo editing app on iOS. Of course this matters largely too because of all the various filetypes Affinity supports, and iOS' ability to store raw files. Here's a quick clip to demonstrate just how simple and quick it is to use:
You can get Affinity Photo for iPad here, for only $19.99.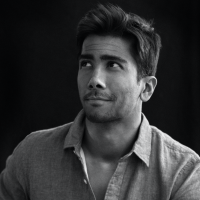 Kishore Sawh
A photographer and writer based in Miami, he can often be found at dog parks, and airports in London and Toronto. He is also a tremendous fan of flossing and the happiest guy around when the company's good.