Affinity Photo for iPad has just received a rather sizable and noteworthy upgrade, the likes of which you just don't typically see from more established softwares, and in addition, what was meant to be the introductory price has been solidified as the permanent one. If you like a mobile workflow, all of this is great news.
We would be remiss not to consider why it is Affinity would keep the price at $20 on this already reasonably priced piece of hardcore software – and it is hardcore. Those of us who have longed for a mobile photography workflow that mirrors the capability of desktops have been treated by Serif, makers of Affinity, to this rather complete post processing/retouching solution for iPad. In fact, there really isn't anything else on the market that comes close. Affinity Photo is already giving Adobe Photoshop a run for its money with photographers and the mobile version is essentially as feature-rich as the desktop version. One can only assume they're keeping this price point to gain marketshare. Frankly, we hope it works, because it's exceptionally good.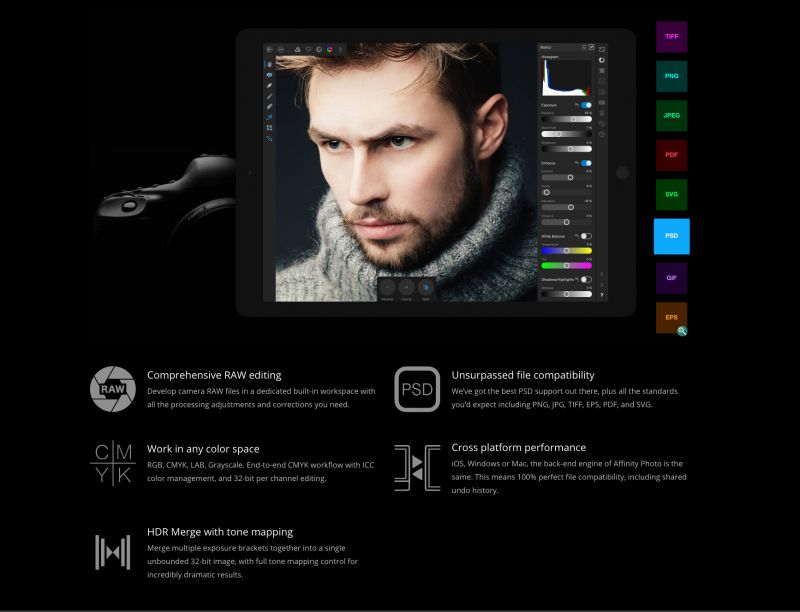 While with other software like that of Adobe, new iterative releases and updates typically come with one or two new features and a trailer load of bug fixes, this is the other way 'round, with an absolute smorgasbord of new features, revamped features, and some bug fixes. Here's a look at what's new:
Additions and improvements in v1.6.4:
Macro studio import and playback. Supports interactive playback.
Significant improvements in performance for large or complex documents.
Even better HDR merge of RAW images.
Increased maximum size of the liquify brush tools.
One-press switching between button menus (e.g. document, command menus).
Improved loading of images from photo library (now shows all user albums/folders).
Use "Place Image" to place original images from Photos.
Powerful adjustment previews.
Enhanced selection refinement.
Improved PDF and vector export.
Better TIFF loading, including support for malformed 8bit grayscale TIFFs.
Dismiss font size chooser by pressing return.
Focus Merge can now use RAW sources.
Show progress when committing a refined selection.
Metadata available when creating a document from the camera.
Export LUT added to document menu.
Convert to Curves added to command menu.
Wet edges can now have a custom interpolation spline.
Pinch gesture support for grouping / ungrouping layers in the layers studio.
Passthrough blending for groups.
Icon improvements, especially in text studio.
Selection marquee tools support extra-finger-constrain.
Improved reading of DPI from files.
Exposure adjustment now operates in stops, not % and has wider range.
Arrow tool has more options.
Paragraph leading UI improvements.
New option to dither gradients in preferences (defaults to "on").
Significantly smoother pan / zoom.
Directional lights in the lighting filter can now be directed using on-canvas handles.
Smart selection brush improvements.
Adjustments / filters preview react to changes in canvas size.
Further memory management and localisation enhancements.
Numerous fixes and stability improvements.
While we haven't been able to truly sort through this Christmas list of features, a few things are clear from initial use of the update. and it's positive. Tiff handling and large file handling is noticeably faster, and the last iteration wasn't any slouch. Having been shooting the Hasselblad X1D lately and a lot of Sony A9 the significant file sizes from the Hassy seemed to be manipulated and handled (even with layers) with equal aplomb to those of the A9 files. It should also be noted this is being used on an iPad Air 2, so it would seem only sensible that any iPad Pro would fly. The only places on the timeline workflow that seems to take anything other than a blink is opening large files from the original import menu and exporting said files once finished, and tone mapping larger files.
Also, having the exposure adjustment operate and measure in stops versus the arbitrary and irritating percentage of the previous gen. is a small alteration with a big impact. It also shows they're listening, and that may be the nicest thing of all. For those using an asset manager like LR on desktop but then Affinity on mobile this makes it very easy to keep editing consistency based more off numbers than on plain sight.
All in all a nice update, and good to see Affinity still trying to push despite being so far ahead of the rest in this space. You can get Affinity for iPad on the app store here.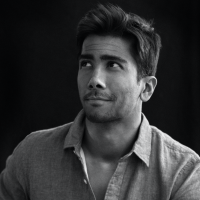 Kishore Sawh
A photographer and writer based in Miami, he can often be found at dog parks, and airports in London and Toronto. He is also a tremendous fan of flossing and the happiest guy around when the company's good.