David Creedon is an editorial portrait, public relations, and press photographer with a world-class portfolio. Adorama TV recently interviewed him to find out how he got his start in photography, his approach to the craft and what he thinks a photographer should do to get better.
The Irish photographer enjoys discovering the story behind the people and places he captures.  And that drive to discover has taken him across the globe with his work on the cover of renowned internal magazines.
I like photographing people that are older than me because they have great stories. They….they know where the bodies are buried.
His approach to portraits is unique in that he prefers slow exposures. That is, he takes exposures from half a second to six seconds long. In a blend of vintage technique with modern technology, he creates a unique shooting experience for himself and his subject that produces stellar results.
Gear Mentioned
In his interview, Mr. Creedon states that he isn't loyal to any particular manufacturer but he currently shoots Canon Cameras. He also mentioned a fondness for primes; namely, the 24mm Tilt-Shift Prime.
Canon TS-E 24mm f/3.5L II Tilt-Shift Lens – $1,899.00
Full Frame Canon Options
Canon 6D II – $1,899.00
Canon 5D IV – $3,299.00
Canon 5DSR – $3,699.00
I'm always looking for stories to tell and the keeps me going. For people who are interested in photography, it's easy to press the button. That's the easiest part of the whole lot. But you a far more rounded look at life.
Mr. Creedon believes the key to being a good photographer is being educated in a wider range of fields from psychology to politics. It is that a broader base of knowledge that will serve you far more in the field than only possessing technical know-how.
If you'd like to see more of David's work, you can find it here.
More Articles From Adorama TV
Lighting Tips | Controlling Your Light With Grids
Headshot Photography Tips | The Gear You Need To Start Your Studio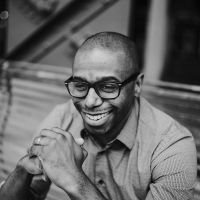 Wendell Weithers
Wendell is based in Atlanta where he shoots events, portraits, and food photography. He also supports his wife Andrea as she runs their cake design business, Sweet Details. Instagram:
Wendellwphoto