It's a big day in the world of retouching. In fact, today is a bit of a cornerstone moment for Adobe, who is releasing a massive update to their Creative Cloud apps across the board, and adding some that weren't there before. Much more tightly integrated is the connection between the desktop and mobile applications. The processes for each have seen an improvement, including the inclusion of a feature currently on mobile we can only assume, will be popular enough that it'll make its way to desktop soon. All of this coincides with the Adobe MAX creativity conference that's begun today.
Both Photoshop and Lightroom have seen their desktop and mobile versions enhanced, making the entire ecosystem of Adobe programs more harmonious. Photoshop's mobile app has generally been ignored by photographers and casual users alike due to its rather limited ability in the face of competition from Snapped, which almost made it unworthy of the Photoshop badge. After all, Photoshop has hardly ever been for the casual use given its incredible power and arcane nature. The new app, Photoshop Fix, brings a level of power and familiarity that does much more justice to the Photoshop moniker.
Many of you may have seen Photoshop Fix in use at the Apple iPad Pro unveiling not long ago, where it was used to show off the new tablet. It's much more than a global adjustments app, and more of an image retouching app now, given that it has liquify and healing brush tools included. So you can push and pull, and expand and shrink to your heart's content, and heal and patch also.
Furthermore, you can locally adjust brightness, use an eyedropper to sample and paint precise colors and more.  These tools alone make your iPad a stand alone system. Oh, and it's free. When you combine it with something like Photoshop Mix that lets you blend layers and more, your mobile device is truly a tool to be reckoned with.
The other new app released is Capture CC, which essentially integrates capabilities of numerous Adobe Apps including Adobe Brush, Color, Hue, and Shape. All of these features actually do quite well when used on proper DSLR images also, provided your hardware isn't ancient.
So between these two new maps and the existing Lightroom Mobile, which also sees a few minor upgrades like Dehaze, Adobe has covered what I would imagine any casual user will want. Honestly, if you're posting mostly to Instagram, or blogging where severe reworks of images aren't needed, these tools will do you wonders.
Of course, the world of retouching isn't limited to mobile apps. Serious retouching and so on requires more adept programs such as the desktop versions of Photoshop and Lightroom and Camera Raw, so those, along with Premier Pro, After Effects, Illustrator and Indesign have all had updates today.
Photoshop CC in gaining artboard features for design layout, Lightroom has a new import interface and better for-web ability and local dehaze, and many of the apps are getting touch interface capability. All the apps are being strung together with a huge focus on the CreativeSync technology allowing files to be seamlessly transferred or worked on any device and then handed off to another with alterations intact. This is the direction Adobe will be moving, especially after it did its research with Bechance that showed how much creatives in major creative hubs are on the move, and how much transit time could be used to produce.
Each of Adobe's apps interfaces with its range of Creative Cloud desktop apps via CreativeSync technology, allowing files to be transferred and worked on between mobile and desktop devices. What we will wait for to be announced soon, is Adobe's 'Project Comet', the details for which will be announced shortly at Adobe MAX.  But all in all, this update selection shows the direction Adobe is headed in, and it seems a good one.
UPDATE
Project Comet was announced at Adobe MAX, as aa brand new, "…all-in-one, cross-platform UX design tool…for easily designing and prototyping websites and mobile apps faster than ever. This new tool from Adobe will be available as a public preview early in 2016 and users can head to adobe.ly/Comet for more information about the project."

Project Comet combines wireframing, visual design, prototyping, and previewing all in one, letting you design, prototype, and field test apps and sites quickly. All can be previewed in real time, and draws massive functionality from the Creative Sync assets across the Adobe CC ecosystem.
There's no better time to become a power user of Adobe software, as complex as they may be, and if you're a prolific shooter and likely use Lightroom to manage your 'life,' and you want to use LR as if it were a natural extension of self, there's nothing to get you there and fast, as the Lightroom Workshop. Really.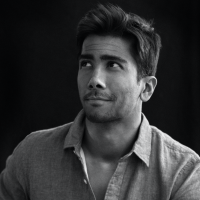 Kishore Sawh
A photographer and writer based in Miami, he can often be found at dog parks, and airports in London and Toronto. He is also a tremendous fan of flossing and the happiest guy around when the company's good.