In a move some will no doubt find bizarre, along with Adobe's major application update this week, they have revealed they are joining the stock image market. Granted they acquired Fotolia, but clearly a company like Adobe is going to be going for the throat of the major players in the business, and that means Shutterstock. And Getty. The multi-billion dollar market is lead by these two, and it's understandable why anyone would want a piece, but why Adobe?
Well, if we can understand and accept the fact that Adobe dominates the post processing market for imagery and video, which it does, and that many stock images are edited with Adobe products, it begins to make a little more sense. Adobe actually feels the overwhelming majority of stock images have and continue to use Adobe software in their creation, so intrinsically, stock image creators and buyers use Adobe products – clearly the idea is to capitalize on that. So, what's on tap?
Being Adobe, they weren't going to release this type of news and service with just a handful of images, or even several hundred thousand of them. Currently, the number of photos and graphics of all kinds within Adobe Stock's catalog is a whopping 40 million. (Given the news lately with Corbis charging heavy fees for images in the public domain, it begs the question how much of Adobe's library is the same).
While the number of images is impressive, and the name will certainly get attention, it's the proposed pipeline/workflow that really seems to be what will get the attention of creatives. You can open up Adobe Stock right from the Adobe applications you already use all day (any with libraries – though Adobe Stock is available as a standalone). The idea is that once you find an image to your liking, you just take that image (which will be a watermarked and low resolution file) and do whatever editing you want with it. A try before you buy, sort of deal.
If the image is enough to your liking that you want to own or license it, you should be able to do that from within the application you have worked on it in. So if you're in Photoshop, you can open up Adobe Stock, find an image, take the low-res watermarked version, manipulate it with layers and the whole lot, and license it. All the changes you made to the low res image? They'll be carried over automatically to the licensed high res version. This, this is the clincher, because Adobe knows you'll want to edit the photo, and lets you try it out, risk free with no limitation, and understands that you won't want to duplicate effort on the licensed image.
Granted this benefit doesn't seem to apply should you access Adobe Stock outside of any of the apps. But now that you see the clever workflow, here's what to expect in terms of cost:
If you are a contributor, you'll make 33% per sale, which is a significant leg up on the competitors. If you're purchasing content however, you can either choose a subscription plan or a la carte. Buying an image a la carte will set you back $9.99, but the subscription plans are at a steep discount of that, especially if you're already a Creative Cloud customer.
10 images per month at $49.99 ($5 an image) or $29.99 ($2.99 an image) for CC members.
750 images per month for $199.99 ($0.27 an image)
Stock photography is a big business with major players and Adobe needed to differentiate, and I think, excitingly, it has.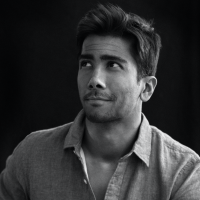 Kishore Sawh
A photographer and writer based in Miami, he can often be found at dog parks, and airports in London and Toronto. He is also a tremendous fan of flossing and the happiest guy around when the company's good.