The art of photography in the year 2020 is more than a hobby. It's a tool to express, protect, document, and engage. In an unprecedented year full of calls to action, we've relied on the power of a photo to do much more than usual, which has made the work of photographers far more important than usual. This group of photographers represents the next generation who will help shape our world, visually.
These 10 up-and-coming ambitious photographers come from all over the world. They are both fiercely curious and wildly passionate, and their work ranges from environmental photojournalism to representative portraiture and boundary-breaking conceptual work.
This year's group includes:
The first trans woman to photograph a back-to-back cover for Out Magazine.
An Ecuadorian photographer from Queens on a mission to empower BIPOC empathetically by evoking strength in feeling, through use of color and symbolism.
A wildlife photographer and devoted conservation biologist who aims to share important conservation success stories.
To see more of their work and their stories be sure to visit the official blog post from Adobe Here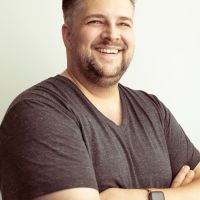 David J. Crewe
David J. Crewe is a full-time commercial photographer and Senior Editor with SLR Lounge. Based out of both Southern California & Las Vegas, Nevada. View his work and blog:
DavidJCrewe.com
Follow his Instagram:
@DavidJCrewe