Adobe MAX 2020 is all about expecting the unexpected. So how about designing it yourself? This year, Adobe is hiring a team of creators to make MAX a reality. This is CoCreate: MAX.
In a year where everything is different, Adobe MAX is no exception. The creativity conference is now an immersive and engaging online experience, open to all. But to truly bring it to life, they need you.
[Related Reading: Registration for 'Virtual' Adobe Max 2020 Is Officially Open]
Our creative community has been greatly impacted by change this year. So to help out, Adobe is commissioning you to be our collaborators. CoCreate: MAX is a diverse team of creators from around the world, and you can apply to join right now. If you're chosen to participate, you'll be given a paid job (?) to create work that will be seen on Adobe's social channels, websites, merchandise, and much more during MAX.
CoCreate: MAX is just one of several programs across Adobe designed to support the creative community. Another example is a $1 million Creative Residency Community Fund, which provides financial support and career guidance to enable more creators to pursue their projects.
What are the positions Adobe is looking to fill?
They are actively recruiting creativity from all types of people. Whoever you are, you can submit your portfolio to four different skillsets:
Adobe's CoCreate: MAX is a campaign based on a simple idea: if we want to empower Creativity For All, we need Creativity From All. This is officially an open call for creatives to help bring Adobe MAX to life – all while getting paid to do it. The application site launched today and includes dozens of paid gigs for the creative community. If you're interested in applying/participating be sure to visit the official landing page here.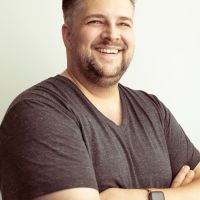 David J. Crewe
David J. Crewe is a full-time commercial photographer and Senior Editor with SLR Lounge. Based out of both Southern California & Las Vegas, Nevada. View his work and blog:
DavidJCrewe.com
Follow his Instagram:
@DavidJCrewe