It's a big day for the Adobe camp as they have released updates to all the primary Adobe Creative Cloud applications. That's 15 application updates – grasp that if you can. For months now, Adobe has been revealing hints of updates for their apps and today they've made good on them all.
Illustrator is purported now to be 10x faster than the previous version, Premiere Pro gets a massive update with updates like Time Tuner and Enhanced Clip support and Morph Cut; After Effects has Face Trackers and allows for their character Animator (Preview) to animate and bring 2D figures to life with your webcam; and there's so much more for these and other apps.
For us photographers, Lightroom and Photoshop have not been left hanging dry, so here's what's new:
Lightroom
Haze Adjustment: In Lightroom CC on your desktop, the new Dehaze feature lets you use a single slider to control the amount of atmospheric haze in your photos. Remove excess haze to recover color and contrast, or add haze to create an artistic effect.
Quick, Easy, & Effective Adjustment of Black & White Levels: We now get more precise control over the brightest and darkest parts of your photos when making local adjustments in Lightroom CC on your desktop. White and black sliders are now available in the graduated filter, radial filter, and adjustment brush
Moving Of Images From Elements to Lightroom: Transferring your photos from Photoshop Elements to Lightroom on your desktop is easier than ever. Information from your Elements catalogs, including photo ratings and people tags, stay preserved in Lightroom.
Lightroom Mobile
There's certainly been significant time and effort spent to take Lightroom Mobile to another tier with this update. There's a new Color/B&W adjustment tool for precise color management, and finally a new Tone Curve adjustment which is going to be huge for users like me who are in love with managing curves. There's also the ability to now alter video on the go and control over vignettes.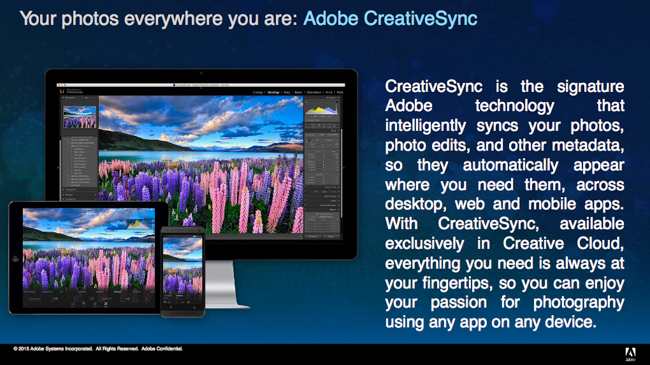 Photoshop
More Realistic Blur: Add monochromatic, or color noise to your Blur Gallery effects to better match your original image — and to reduce banding when viewing and printing.
Upgrades to the Healing Brush, Spot Healing Brush, and Patch tools: All of these have been tweaked with Mercury Graphics Engine enhancements. See your Healing Brush results in real time, and get Spot Healing Brush and Patch Tool results that are up to 120X faster than they were in CS6. If these performance enhancements actually can be seen in real usage, portrait retouchers will wipe tears of joy today.
Enhanced Content Aware Fill: Check one box to have Content-Aware Fill automatically fill in the edges of your stitched panoramas. This enhancement should see content aware behave better in uses outside of panoramas also.
Adobe Camera Raw 9.1 Update: The same black and white level adjustment improvements and haze features seen in Lightroom will now be seen in ACR.
*It should be noted here that if you choose to update Photoshop to CC 2015 it will wipe the extensions from previous versions of the program since Adobe has cut the life of their Extension Manager. If this is not something you want to happen, the only solution at this time seems to be to select 'Advanced' in the update window and uncheck the box that would remove all prior versions.*
For anyone with a CC subscription, all of this is welcomed, but there seems to be no update support for the latest stand alone version of Lightroom 6, even though it's relatively new – less than 2 months old if memory serves. No doubt the outrage at this will be louder than the applause, but Adobe has constantly reminded users that CC will be what gets the frequent updates, so it shouldn't come as a surprise.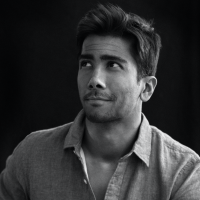 Kishore Sawh
A photographer and writer based in Miami, he can often be found at dog parks, and airports in London and Toronto. He is also a tremendous fan of flossing and the happiest guy around when the company's good.