Well folks, today is the big day! That's right, it's Photoshop's 30th Birthday!The application well know, use, love, hate, and create with every day has been with us now for over 10,000 days! To celebrate, Adobe has put together a pretty large blog post full of history and facts which you should definitely check out here, They've also compiled the results of an interesting survey of Photoshop's impact on pop-culture.
Some highlights from the adobe survey include:
What famous work of art is in need of a Photoshop remix? That would be the Mona Lisa.
Mount Rushmore, The Eiffel Tower, The Statue of Liberty and The White House are the top four landmarks people would like to see Photoshop applied to.
74% of Gen Z'ers say they've experienced joy or laughed at an image that had the Photoshop touch.
Which celebrities do people think edit their social media/online photos most frequently? 42% say The Kardashians – with Kim Kardashian and Kylie Jenner taking the top spots, and Khloé Kardashian coming in fourth. J Lo, Taylor Swift, Beyoncé and President Donald Trump also make the list.
If you could use the power of Photoshop to appear in a photo with anyone (living or dead), who would that be? Famous political figures clocked in as the number one response.
There's a lot to catch up on today between this survey and the insanely large and impactful history of Photoshop, but most importantly, just a week after a whole Lightroom Ecosystem update, today Adobe has also released a bunch of new features and enhancements for the desktop and mobile applications. For my write up, i'm going to focus on all the new features that are coming and will let you head over to Adobe for the trip down memory lane, so let's get started and have a look at all the new tools available to you on your creative journey.
[Related Reading: Take a Tour of Adobe Photoshop on the iPad]
Content-Aware Fill Workspace Improvements
First and foremost, on the desktop version we're getting some massive improvements to Content-Aware. With this enhanced workspace, you can now make multiple selections and apply multiple fills without leaving the workspace. You can make adjustments and changes over your whole image and _then_ once you're happy, you can hit the "ok" button to confirm and apply all your changes! What's even more interesting and impressive, is each selection made in this workspace is now saved as a new layer in the CAF workspace, letting you reduce clicks, give you more control, and speed up your editing!
Lens Blur Improvements
The second feature to be improved in this anniversary release, is the output quality and performance of Lens Blur. Now this process is applied through the GPU, significantly improving the overall realism, delivering more colorful bokeh, and more realistic & pleasing results.
Mac OS Dark UI Support
Dark UI has been a popular feature since the release of Catalina for Mac OS, I myself am a user of this interface. Well now Photoshop supports this new Dark Mode allowing system dialogs like File>Open to match the settings of your Mac OS. Simply put, if you have Dark UI enabled your system dialogs will also be dark. A minor improvement…but a welcome one for sure!
Performance Improvements
This set will be an interesting one to test and hear feedback on, as the claim is there are going to be a plethora of improvements with a more "buttery and seamless mousing experience." Clicking interactions like panning and zooming will be smoother and more responsive, especially when working on larger PSB type files.
Well, one thing I commented on last year was Adobe seems to be very focused on bringing more and more functionality to the Mobile market, and they are definitely keeping up with that plan as the majority of the updates today are coming for that tool. In this major update for Photoshop on iPad, Adobe has added an improved Object Selection tool, bringing the functionality of this feature further ahead of any other competing tool and device.
Object Selection Tool
A feature teased during Adobe Max 2019 for the desktop has finally made its way to the iPad version allowing users to get "closer to the pixels" in a touch based environment. Using Adobe Sensei AI & machine learning, object selection automatically makes a great selection based on the pixels and area of your selection, radically reducing the steps needed in your creative editing process.
Select Subject finds and selects the main subject in your image with a single click, while this is a great and easy tool, sometimes you need a little more precision! This is where the Object Selection tool comes into play. It's designed to give you speed and control over the selection process in complex images and working with multiple objects.
Type Settings
Type settings in this release brings many of the typographic controls you use in Photoshop on the desktop to the iPad. We added type layer, character and options properties. This includes tracking, leading, scaling, and formatting things like all/small caps, super/subscript. Kerning will ship in a future release.
Cloud Documents
In December Adobe began rolling out major performance improvements to the upload and download experience of cloud documents for PSDs of 75mb and larger. On January 14, they expanded the improvements to apply to PSDs of 10MB or larger. Depending on the size of your file and your network performance, you can see up to 90% faster uploads and downloads with these updates.
Conclusion
There's a LOT coming and just for Photoshop this time, which should add some MASSIVE and long sought after improvements to the applications for both desktop and iPad this week. While i've not updated yet (at the time of writing this) i'm excited to see how these features are improved and test them out in my workflow. Granted, i'm not personally much of an iPad user….since well…I don't own one, So i'll be focusing on the desktop release.  But i'd love to hear your thoughts on it's usefulness and performance on the iPad. So if you use Photoshop for the iPad and have done this update, let us know in the comments below, and be sure to share some links to your work. In the meantime, what other improvements do you want to see added to the Adobe Roadmap?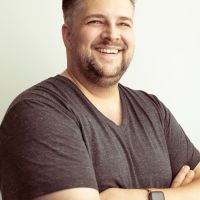 David J. Crewe
David J. Crewe is a full-time commercial photographer and Senior Editor with SLR Lounge. Based out of both Southern California & Las Vegas, Nevada. View his work and blog:
DavidJCrewe.com
Follow his Instagram:
@DavidJCrewe