How You Shot It is a series where you show us how you shot an image. Many who use our presets love to share their special processing recipes. You can join the SLR Lounge Textures and Presets group on Facebook and share your favorite images and recipes as well! For our wedding and portrait photographers, please join the SLR Lounge Wedding and Portrait Photographers group.
Today's post is from Antti Karppinen. Antti is Digital artist, photographer, retoucher from Finland. Antti is was named Portrait photographer of Finland for 2013 and is an internationally awarded commercial photographer. He belongs to a new generation of image artisans, to whom believe all things are possible and creates complex visual concepts and images with unlimited imagination.
In my work, the concept and the pre-visualization of the images are the key issues. It is all about fresh ideas and trying out to achieve something that has never been seen when trying to create original pieces of art.
Sometimes, I just know that a project will evolve into something original already before I even start shooting the pictures. This time it was this couple (Vesa & Elina), who gave me pretty much free hands to do a wedding photo that would be something different. Well, I definitely tried to push myself to create something new and I think I did.
The soon-to-be married couple both sent me some ideas they had in mind. The images they sent me as a guideline were from different movies, lots of weird stuff, definitely not your typical wedding shots. I looked through the images and came up with an idea of switching the wedding theme into the world of illusion and magic, something similar to the dream world in the movie, Inception.
After a bit of location scouting, I decided that I would do the images in my friend Janne's bar, Tähti, which has a really cool jazz-themed section. Cool walls, red chairs, an area for the band, etc. I came up with an idea to switch the perspective of things altogether. I rotated the environment totally sideways and shot one of my coolest composite shots! This image will twist your mind and also your neck.
The composite has mainly three elements, the groom the bride and the environment. Pretty straight forward retouch, but the concept would be the the key issues to make the image stand out.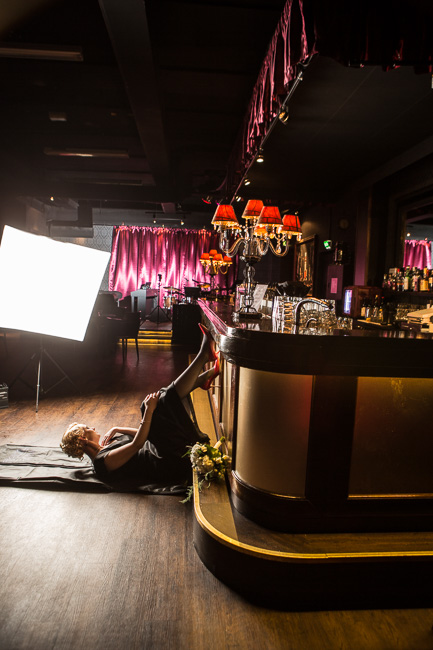 Watch the Behind the Scenes Retouch Video
Gear List
Camera: Canon 5D Mark III
Lens: Canon EF 24-70mm F 2.8
Elinchrome Quadra Ranger flashes
Even if I shoot mostly commercial cases, these are the kind of wedding images I love doing, with lots of time, really creative ideas and the freedom to deliver what I know best – storytelling images with a fresh approach. We will see in April what color medal I will be bringing home from the World Cup of Photography!
About the "How to Shoot It" Series
This educational series highlights amazing images from our writers as well as our community. The goal is to not only feature inspirational work but to provide valuable education for our photography community. If you would like to submit your work or shoot to be considered, please click here to submit.
Alice Houstons
Photography has been a part of Alice Houston's life for over a decade now. Here at SLR Lounge, she prides herself on being a wealth of knowledge in the latest photography news and tech. Always searching and a self-described "Digital Nomad," she loves learning about those unique stories that inspire photographers around the world!