When we say 'scaling' or 'interpolating' (for size anyway instead of distortion) in the world of digital imaging we are speaking of resizing, and while some will use the term 'upscaling', you'll find that's more associated with video. The whole business of altering the size of an image (making one larger in particular) can get really technical, really fast, and is typically the foray of men with adenoids and murky spectacles who will start to use terms like 'Nearest Neighbor Interpolation', Bilinear and Bicubic Interpolation, and Spline and Sinc. While it's all fascinating and good to know, you don't have to.
There are a host of options to get the job done without much headache, and that ranges from paying someone on Fiverr to do it for you, or using certain web-apps, or programs like Photoshop. Photoshop can actually do a good job if you know what you're doing, but now there's a free app called 'A Sharper Scaling'–yes, indefinite article included–which claims to have a leg up on Photoshop in the matter.
How does it do it differently? I'm not sure as they don't disclose, but it's probably using a filter (sinc) of some sort, versus a more typical bicubic method. But if the sample results are anything to go by, there is a marked difference with the results, with the more pleasing results coming from this app even over Photoshop.
I can't test myself, however, as it's for Windows. That's right Apple users will have to do without, which further lends to the possibility it may be working in a similar manner to ACDsee. However, if you're a Windows user, this looks promising, and you can find it here.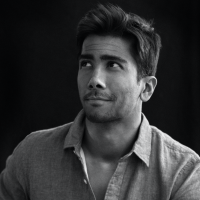 Kishore Sawh
A photographer and writer based in Miami, he can often be found at dog parks, and airports in London and Toronto. He is also a tremendous fan of flossing and the happiest guy around when the company's good.