A few weeks ago we told you about Lonely Speck's PureNight, a filter that's meant to combat the orange-yellow glow of sodium vapor city lights in your nightscape photography. While still currently being crowdfunded, the filter looks promising granted that you lens accepts filter holders like the Formatt Hitech 85mm filter holder. If your favorite wide angle lens has a bulbous front element (like the Tokina 16-28mm f/2.8), you may want to check out the Astro-Multispectra Clip Filter from STC.
The STC Astro-Multispectra Clip Filter is a clip in filter meant for full frame bodies designed by STC Optics with the help of professional astronomer and renowned astrophotographer Dr. Wei-Hao Wang; it behaves similarly to the PureNight filter in that it blocks transmission characteristics of light polluting wavelengths.
The filter is installed in Canon and Nikon full frame DSLRs by sliding the filter into the in front of the sensor after activating mirror lock-up your camera's settings. Since your optical viewfinder will be blacked out, you'll need to use Live View to frame and take your shots. Below are a few with and without filter comparisons direct JPEGs from Nikon D800.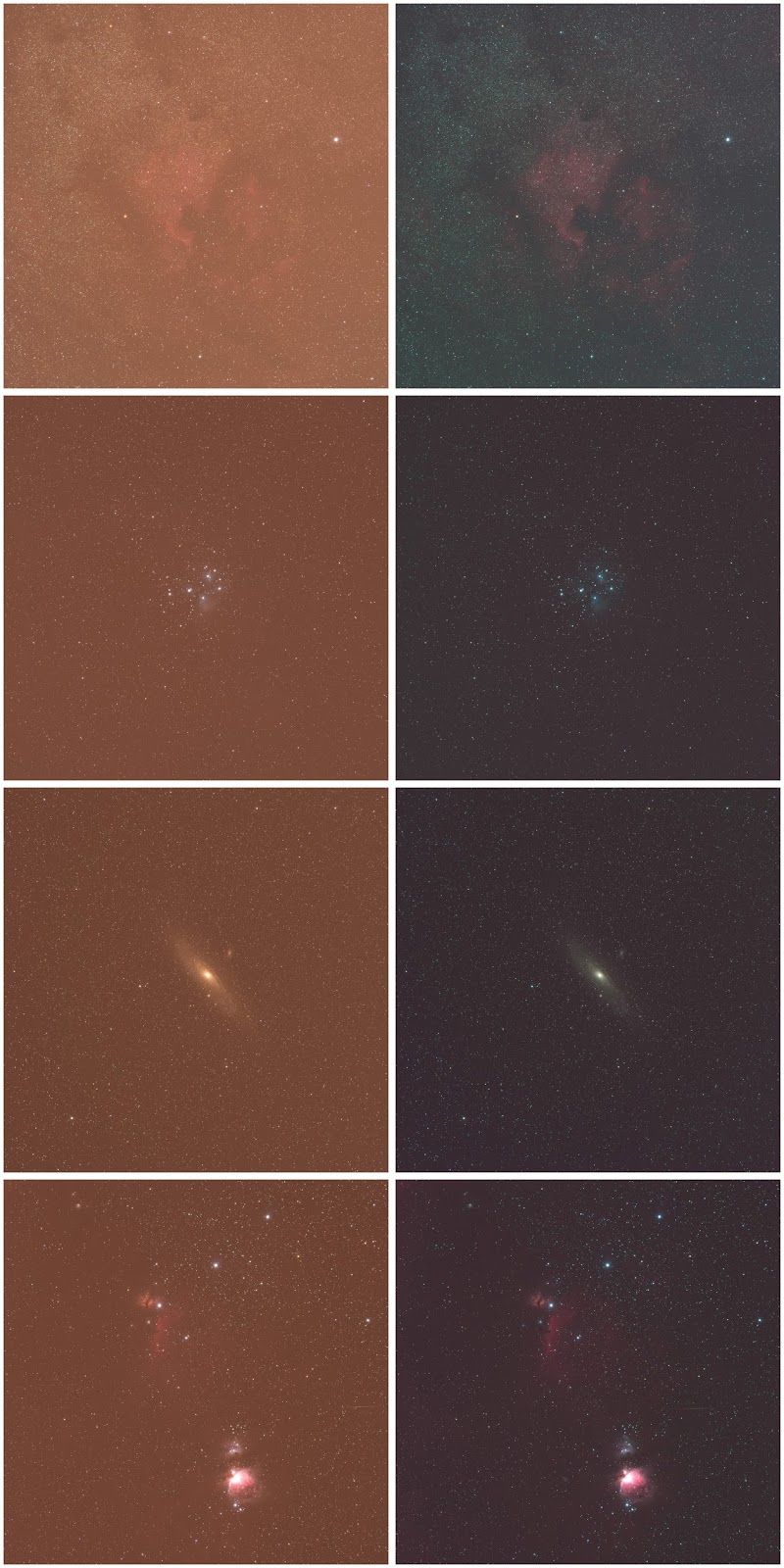 Placing the anti-light pollution filter closer to the sensor reduces color shift that may occur. The when using the clip-in filter it is recommended to avoid taking pictures directly into strong artificial light as it may cause slight flares on the image.
Below are some of the highlighted features:
Made of A2 stainless steel which is virtually non-magnetic and less brittle at low temperatures. Specially designed Clip-shaped structure could be pressed firmly while attaching the lens on camera body.
Reduces the interference from artificial lighting in the city, and enhance the wavelength of Hα, Hβ, OIII and SII. (Hα=656.3 nm, Hβ=486.1 nm, OIII=495.9 & 500.7 nm, SII=672.4 nm)
Coated with the use of IBAD (Ion beam-assisted deposition) technology on Schott® B270 optical 2mm glass, working for higher durability and easily cleaning, and preventing aging variation in optical spectral characteristics due to temperature and humidity change
High-quality double-sided NANO Anti-smudge coating provides excellent performance on waterproof and grease-proof capability
The STC Astro-Multispectra Clip Filter is compatible with the Full Frame Nikon cameras like the D4s, D810, D750, and the D610 as well as the Canon 5D Mark III and the 6D.
The STC Astro-Multispectra Clip Filter is sold by Cyclops Optics for about $209 USD. The company offers worldwide shipping.
Justin Heyes
Justin Heyes wants to live in a world where we have near misses and absolute hits; great love and small disasters. Starting his career as a gaffer, he has done work for QVC and The Rachel Ray Show, but quickly fell in love with photography. When he's not building arcade machines, you can find him at local flea markets or attending car shows. Explore his photographic endeavors
here
. Website:
Justin Heyes
Instagram:
@jheyesphoto